Future 100. Trends and Change to Watch in 2018. A Must-Read Report.
One of the many reasons to love December is the JWT Innovation Group "Future 100" annual forecast. This year's report is worthy of many re-reads!
The Future 100: Trends and Change to Watch in 2018 highlights emerging consumer behaviors with 100 trend predictions. Trends span culture, tech and innovation, travel and hospitality, brands and marketing, food and drink, beauty, retail, health, lifestyle, and luxury. Each includes an original analysis of why it matters for the organizations whose products and services we use daily.
Seen here, a couple of snippets to introduce WCF readers to the JWT Innovation Group, a division of J. Walter Thompson Intelligence.
Emerging Trends, Consumer Changes & Why It Matters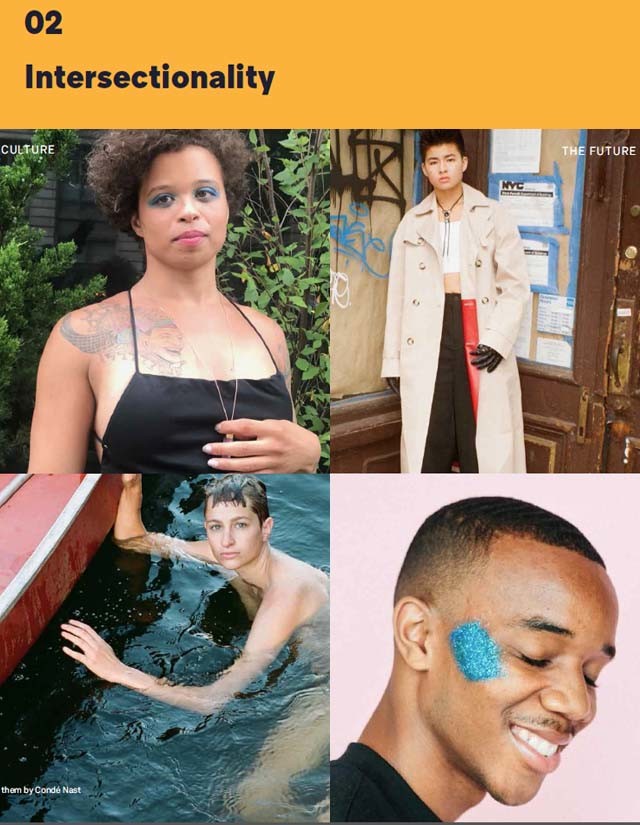 #02 Intersectionality [Culture]
Now, as dialogue around the importance of diversity reaches a fever pitch, the term [Intersectionality] is resurging in popular discourse, conference panels and think pieces both in media outlets trying to reach the highly diverse generation Z, and among diversity chiefs developing employment practices.
Why it's interesting:
From tech companies to traditional corporations, organizations are under pressure to improve diversity and inclusion in their hiring, but the layered challenges associated with achieving this are coming to the fore.

Meanwhile, thanks to politicized generation Z and the mainstream feminist movement, lazy, sexist images and limited representation are increasingly being called out publicly.

Media brands hoping to appeal to a younger audience have to embed values of diversity, intersectionality and inclusion in their philosophy from the get-go.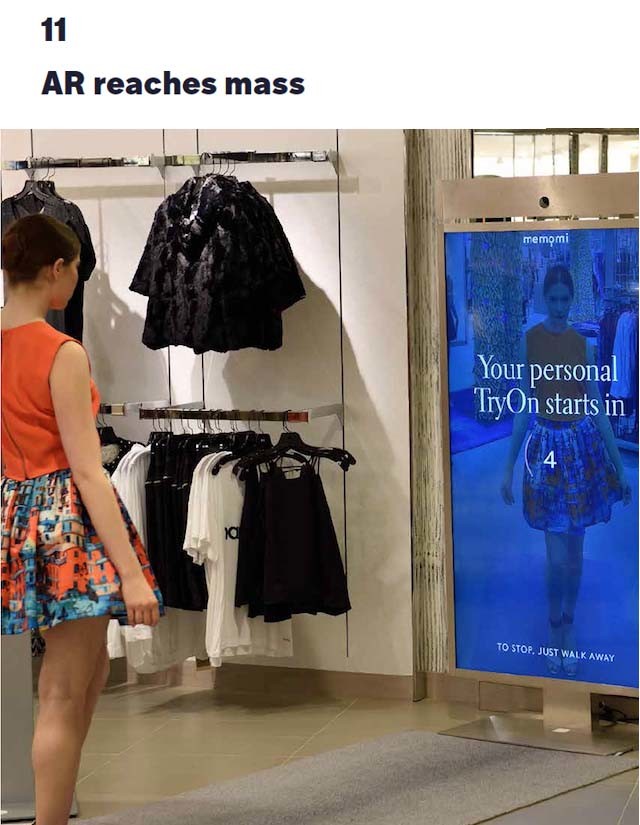 #11 AR reaches mass [Tech & Innovation]
In 2017, augmented reality (AR) went from niche technology to must-have tech. Now tech giants are pushing AR into the mainstream. "I don't think there is any sector or industry that will be untouched by AR," Apple CEO Tim Cook told Vogue in October 2017. From providing consumers with more information to allowing them to virtually test products, new examples of AR can be seen in gaming, fashion, retail and marketing, with countless more on the way.
Gap's DressingRoom app, revealed at January 2017's Consumer Electronics Show, allows users to customize a virtual 3D model to their proportions and preview outfits. Neiman Marcus has launched Memory Mirrors, in-store mirrors where shoppers can try and compare different looks using AR. In April 2017, home furnishings store Lowe's launched its In-Store Navigation app, which allows customers using Google-powered AR to navigate stores and unlock additional information.
Why it's interesting:
Though AR came to prominence through the immensely popular Pokmon Go, it is no longer a game, but a serious feature poised to deliver real consumer benefits. "Over time, I think [these features] will be as key as having a website," says Apple CEO Tim Cook.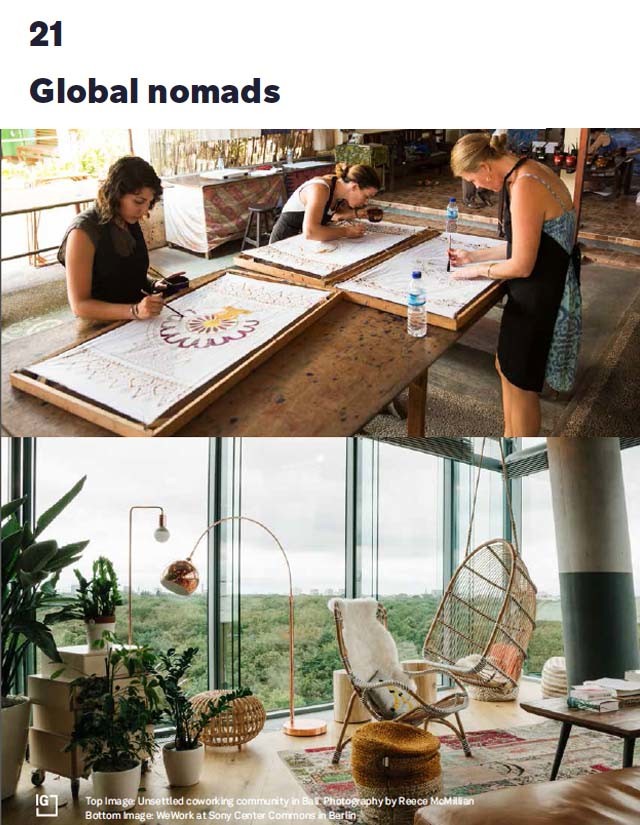 #21 Global nomads [Travel & Hospitality]
Where is the dividing line between work and travel? For younger generations, the distinction may not exist.
"My generation aspires to have a life that is very free, says Angelina Aucello,a smart-luxury traveler who writes under the banner Angelina Travels. "In my parents' generation, the American dream was getting a great job at a bank on Wall Street, and then you've made it in life. My generation is shifting to the dream being freedomhaving the ability to work wherever there is wifi, to go to another country and connect and create content, to be totally mobile and remote."
Travel companies are making it easier to ditch the nine-to-five. Unsettled and Remote Year create temporary communities of entrepreneurs and creatives abroad, while Habitas specializes in global wellness travel, offering retreats and eco-chic hotels to members in Tulum, Malibu and Namibia. Perhaps the greatest game changer is WeWork, which allows members to choose from more than 200 offices across 20 countries. Massive expansions planned for China and Latin America will mean remote workers are never far from the office.
Why it's interesting:
Digital nomads are a new type of global citizen, with a hunger for community that demands new experiences from travel brands.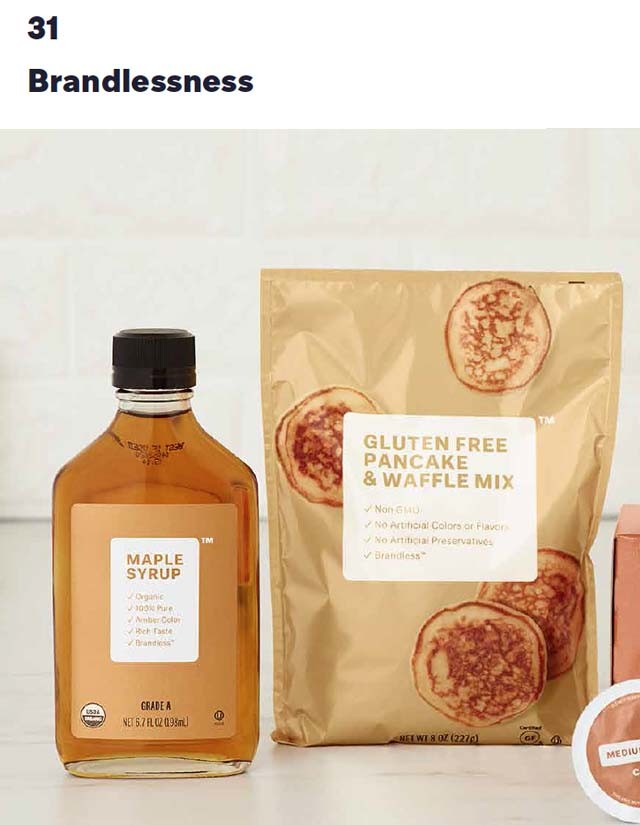 #31 Brandlessness [Brands & Marketing]
A wave of disruptive new companies is offering premium beauty, personal care, and groceries at a fraction of the cost of branded equivalents. These direct-to-consumer white label goods offer quality of the kind found in Whole Foods or Sephora, with none of the bells and whistles (and add-on costs) associated with household labels.
In the beauty sphere, Toronto-based multibrand skincare company DECIEM caused frenzy among beauty editors with the launch of The Ordinary, a range of serums, facial oils, suncare products and foundations with the same ingredients as luxury versions, priced as low as $6. Packaged in clean, white clinical packaging with white letters, its entire positioning is as a non-brand "brand". "The Ordinary exists to communicate with integrity and bring to market effective, more familiar technologies at honorable prices," says the company. Beauty powerhouse Estee Lauder has announced an investment.
Why it's interesting:
In many ways, these models hit a sweet spot for millennials. They are transparent, ethical, cost-conscious and digital-first. Millennials, apparently less susceptible to traditional branding and advertising, are increasingly backing high-quality private label offerings Trader Joe's and Whole Foods' 365 are just two prominent examples.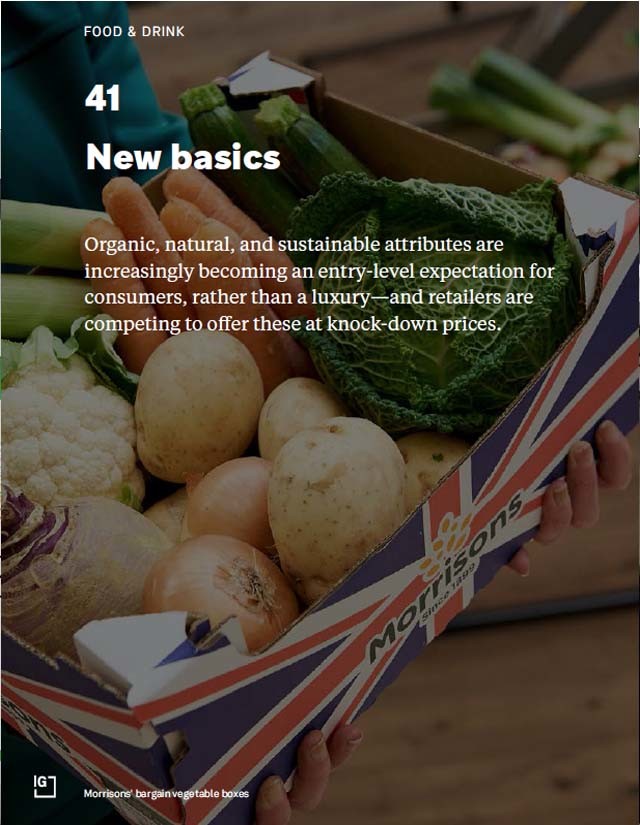 #41 New Basics [Food & Drink]
Nearly half (49%) of US millennials say they now expect all products to be GMO free, while 43% expect organic, 53% natural, 64% sustainable and 56% recyclable, according to a survey conducted by SONAR, J. Walter Thompson's proprietary market research tool.
Disruptive companies such as Brandless are already disrupting the grocery space with certified organic, vegan and non-GMO products at $3 each. CVS is also expanding its mix of private label goods to include probiotic trail mix, manuka honey adhesive pads, and sweet sriracha-roasted chickpeas offering "premium, innovative products without the premium prices," says Cia Tucci, vice president of store brands.
In the United Kingdom, Morrisons has started offering affordable, seasonal vegetable delivery boxes (previously synonymous with affluent urban foodies) that can feed a family of four for five days, priced between $4 and $8. Amazon, on its first day of trading after buying natural groceries retailer Whole Foods, cut prices by as much as 43%.
Why it's interesting:
When it comes to food, drink and personal care, consumers are prioritizing items that are natural. As values such as organic and non-GMO become the new normal rather than premium, how can brands differentiate themselves?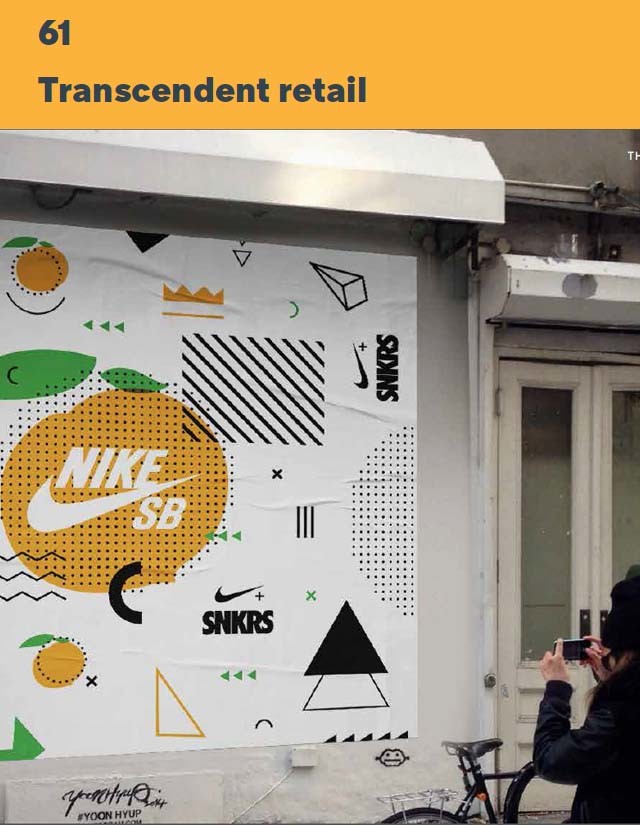 #61 Transcendent retail [Retail]
Shopping is leaping off the screen and morphing into a more immersive experience, as voice technology, augmented reality (AR), and artificial intelligence (AI) transform the retail industry.
AR's retail potential is boundless. China's Alibaba used the technology to create a Pokmon Go-style game as part of its 11:11 Global Shopping Festival in late 2016, designed to drive foot traffic into physical stores.
Amazon also got into AR in fall 2017, when it launched an AR feature on its iOS shopping app. The new feature, built using Apple's ARKit, allows customers to visualize how a product will look in their home.
Voice tech is on the rise in retail. According to research and advisory firm Gartner, room-based screenless devices, including Amazon Echo and Google Home, will be in over 10 million homes by the end of 2017, and will account for a growing share of commercial traffic. In August 2017, Walmart announced it would be partnering with Google for voice shopping, via Google Assistant.
Heidi O'Neill, president of Nike's direct-to-consumer business, told Recode's Code Commerce conference in September 2017 that its SNKRS AR app was helping to prevent bots buying up limited-edition sneakers online. To buy certain sneakers via the app, the user has to point their phone at a specific Nike image, either on a website or on a poster. (Pictured above)
Why it's interesting:
A streamlined online experience is no longer enough in retail. Customers are increasingly expecting retailers to link the online and offline worlds to create a seamless, intuitive customer experience that makes buying products quicker, easier and more enjoyable.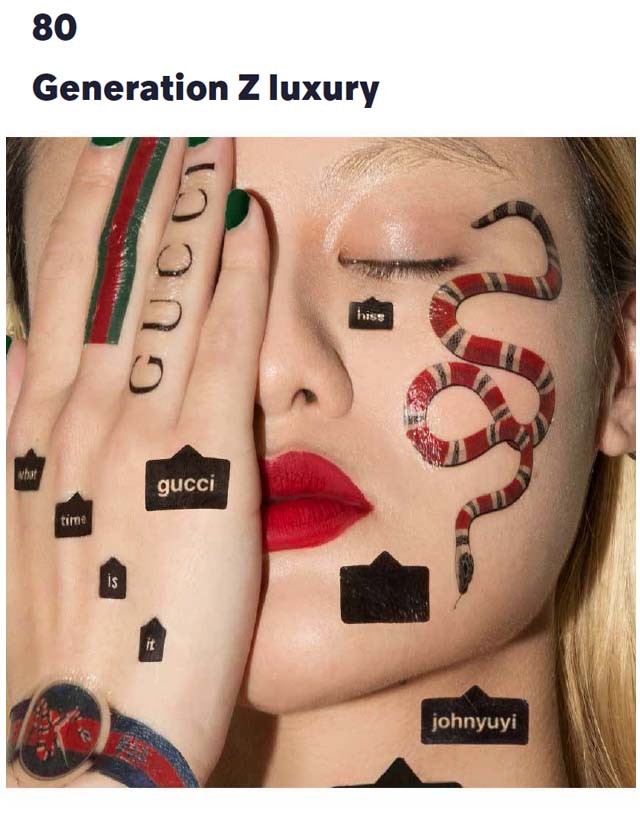 #80 Geberation Z Luxury [Luxury]
The youngest generation of consumers is driving the luxury market.
According to a report by Bain & Company, generation Z and millennials generated 85% of luxury growth in 2017. Rather than focusing on the millennial group, luxury brands are turning their marketing to generation Z, adopting new digital language to reach and resonate with younger audiences.
In March 2017, Gucci released a series of memes for its #TFWGucci (That Feeling When Gucci) campaign. Comme des Garons and Chanel have made bespoke sets of emoji.
Gen Z influencers are also appearing in luxury campaigns. Chanel also has campaigns featuring 18-year-old rising star Lily Depp-Rose and 17-year-old Willow Smith, who is also the luxury brand's ambassadress.
Why it's interesting:
As teenagers and consumers, the digital-native generation is already a big spender within the luxury market. Forward-thinking brands are getting ahead by hiring young talent because generation Z is known for looking to its peers for advice and approval..
All content courtesy of JWT Innovation Group, The Future 100: Trends and Change to Watch in 2018.

GET THE FULL REPORT
Registration is required to receive a free download of The Future 100: Trends and Change to Watch in 2018. The report is worth the time it takes to sign-up! Click here to Register.
The Innovation Group is J. Walter Thompson's futurism, research and innovation unit. It charts emerging and future global trends, consumer change, and innovation patternstranslating these into insight for brands.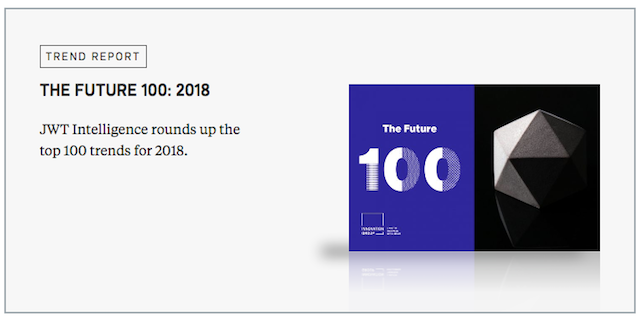 RELATED REPORTS

RELATED CONTACT LISTS PRODUCTS