Fashion Trends for Spring 2015 as Told by Google Data
In this Google Fashion Trends report, their 1st, see the power of Big Data in action for consumer insight on what will be hot this season, a spotlight on three hot trends for Spring 2015. Tulle skirts or Normcore? Read on.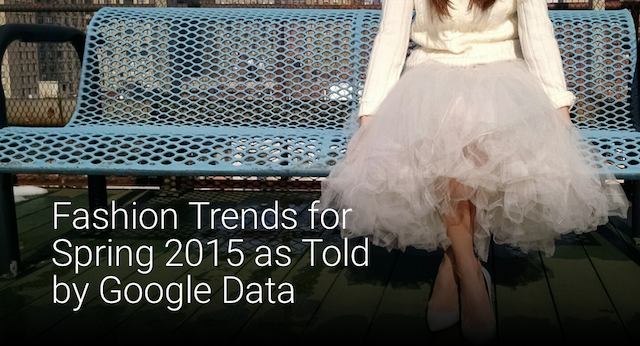 Consumers turn to Google Search in the moments that matter when it comes to fashion, giving us a glimpse into the latest trends for spring. By looking at search demand patterns, geographic data, and co-search behavior, Google can see what trends are top of mind this season. Below are three up-and-coming fashion trends they have pinpointed for spring 2015.
1. TULLE SKIRTS SPREAD IN POPULARITY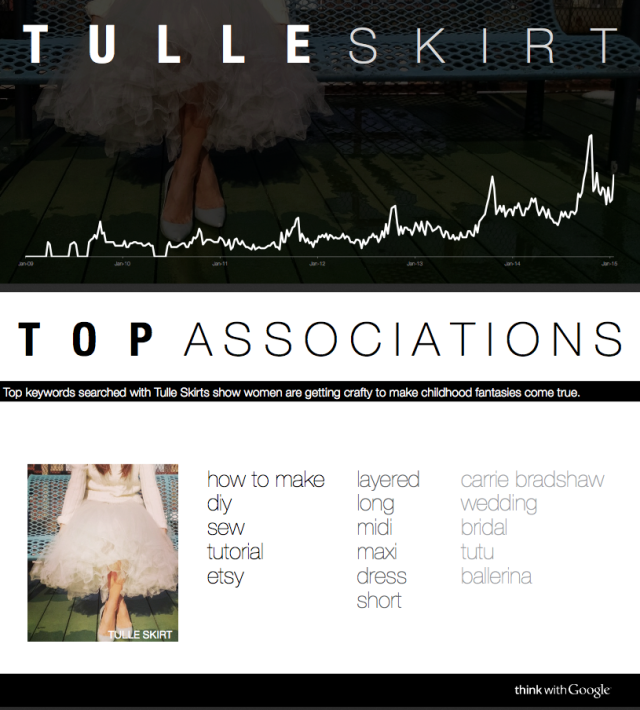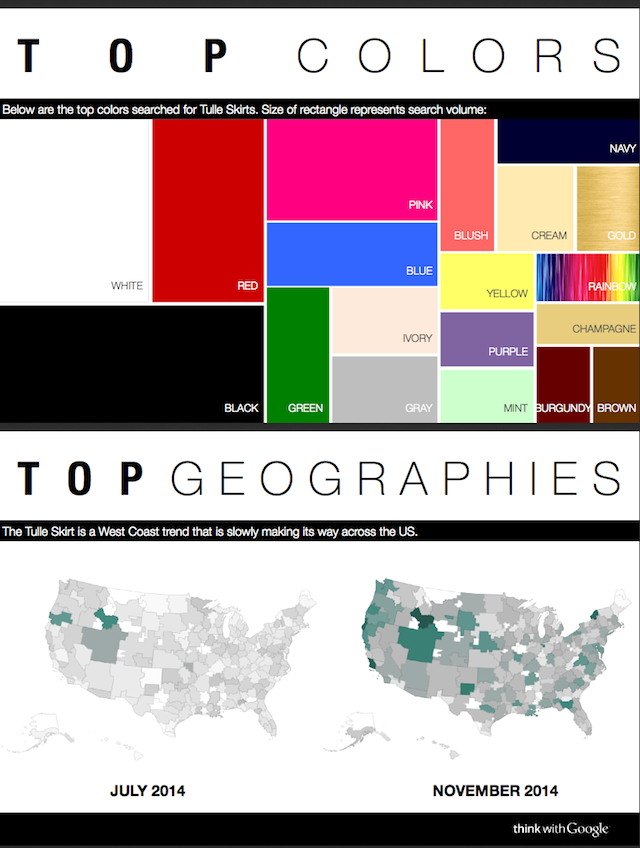 According to trending Google apparel searches, tulle skirts are growing in popularity just in time for spring fashion, up 34% from January 2014 to January 2015.
Originating on the West Coast, the tulle skirt trend is making its way across the U.S. according to Google searches. Consumers are seeking this skirt in all colors of the rainbow (and even in rainbow), but the most popular colors are the classics: black and white.
Consumers aren't interested only in buying tulle skirts, either. Top searches indicate that a majority are feeling inspired to get crafty and make their own. Armed with more than 20,000 tulle skirt tutorial videos on YouTube, we can understand why.

2. JOGGER PANTS SEE MASS APPEAL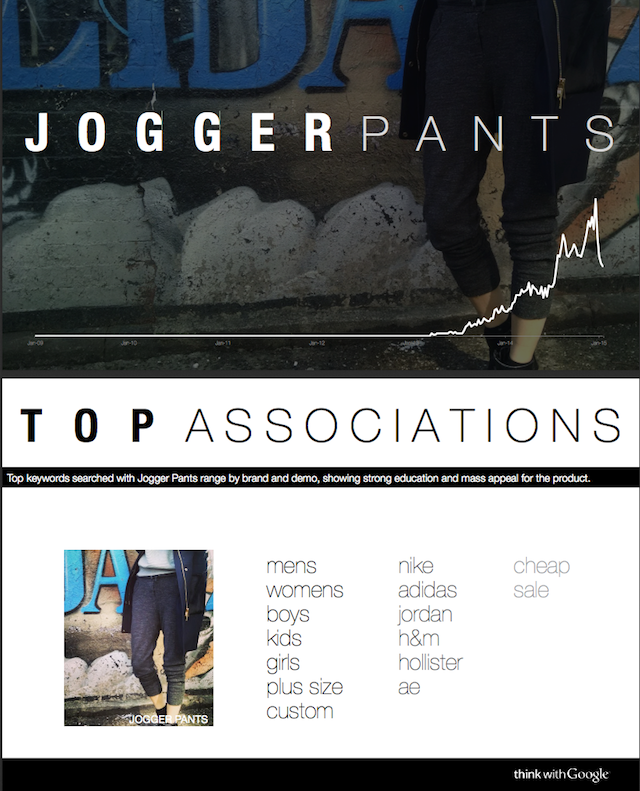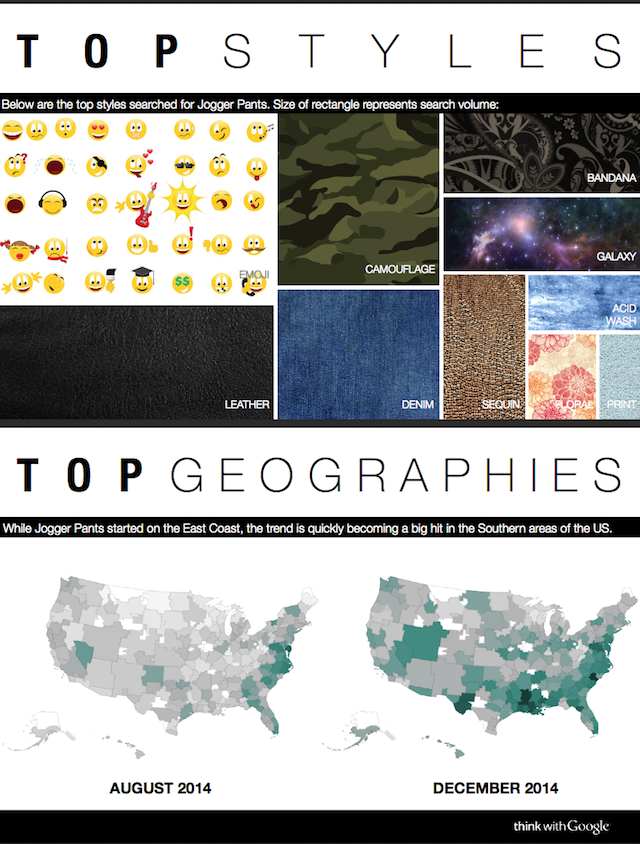 While tulle skirts may not be for everyone, jogger pants are a trend that just about anyone can get excited about. We're seeing top searches for jogger pants for men, women, boys, girls, and even toddlers, indicating mass appeal for this apparel item.
Looking at the terms often searched in conjunction with jogger pants (such as men's, women's, brand names, and styles), it seems that consumers are already well-versed in jogger pants and are turning to Google Search to learn more about them by searching which brands offer the best selection and deals.
In looking at the particular styles of jogger pants searched, we see that people are willing to step out of their comfort zone on this trend. The most-searched style? Emoji jogger pants.

3. MIDI SKIRTS CATCH ON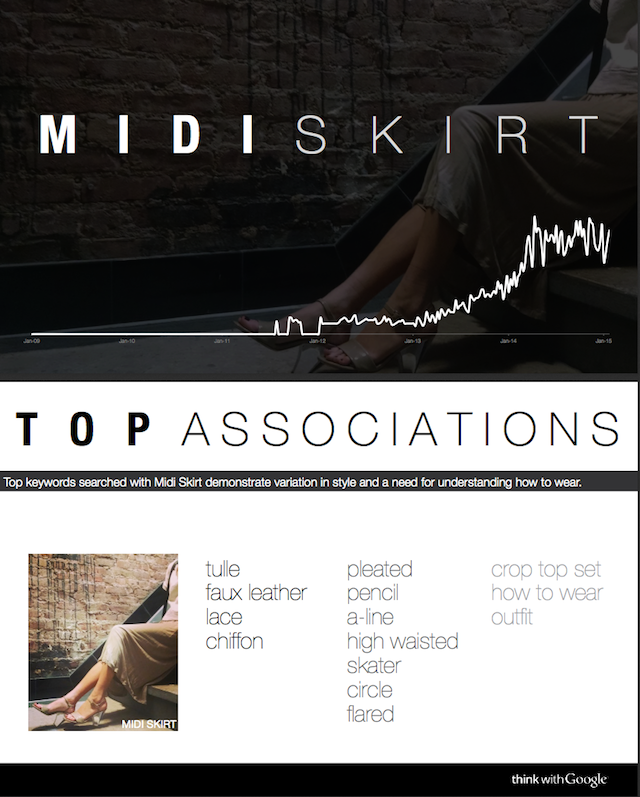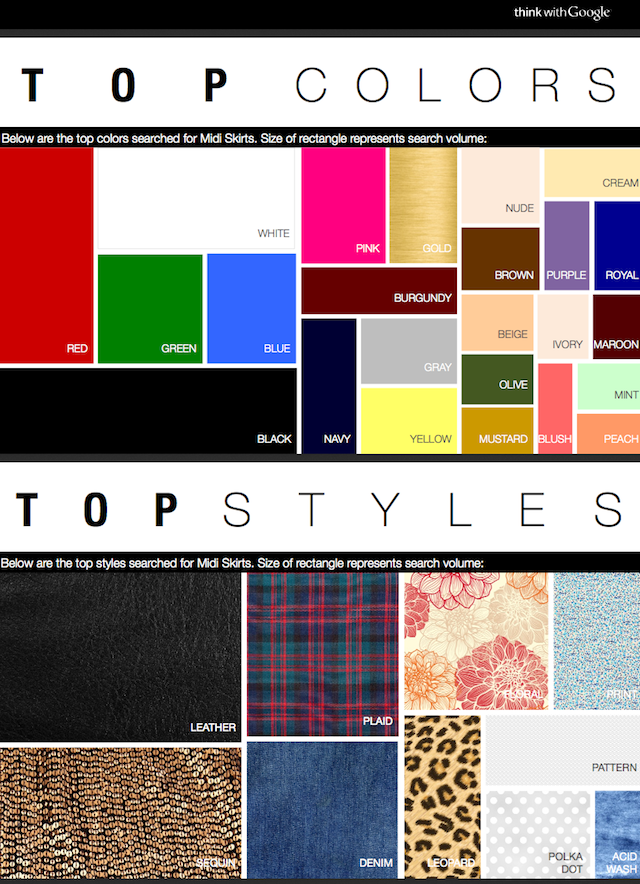 Not quite a maxi skirt, and definitely not a mini skirt, the midi skirt is a revived trend from the 1960s. Recently brought back in the U.K. in 2013, the trend is making its way back to the U.S. While lower in search volume than tulle skirts or jogger pants, the midi skirt has seen 9X growth in searches over the past three years—and is still in its early stages of growth within the U.S. market.
Top searches about midi skirts, such as "how to wear" and "outfits," demonstrate a lack of education on how to incorporate the trend.
Because the trend has been growing in the U.K. over the past couple of years, there are already so many variations of silhouettes and styles displayed on the internet. Top silhouettes include pleated, pencil, A-line, high-waisted, skater, circle, and flared, to name a few. With such an overwhelming list of styles, it's no wonder consumers are seeking tips on how best to pull them off.
More Report Details
This report is an excerpt from Fashion Trends for Spring 2015 as Told by Google Data, written by Yarden Horwitz, and Olivier Zimmer. The full trend report is informative, concise, and an easy read, broken out into three chapters.
Part One. This season's top winners and losers
Part Two. A spotlight on three trends for Spring 2015 (seen here)
Part Three. An extensive list of top apparel trends
View the Spring 2015 Google Fashion Trends Report in its entirety. Download the PDF here