Euro Street Style, Summer 2010
No longer the domain of out-there hippy fashion, festival dressing represents an eclectic collection of inventive mix-and-match pieces. Versatile garments remain popular, especially at Glastonbury, despite the welcome respite of scorching sun - accessorized with feminine details, including headscarves and floral wreath headbands. The boys were equally eclectic, fusing Indian inspired graphics with slim-line jeans, as gender stereotypes and boundaries continue to blur.
Festival Round Up Report
Women's Street Style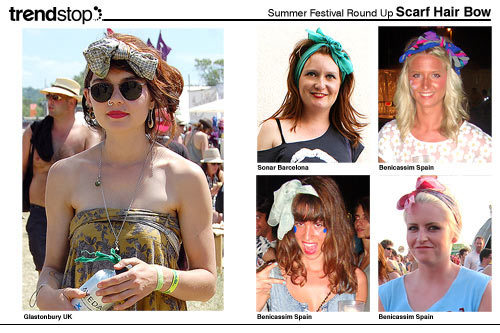 Scarf Hair Bow
Bold patterning and soft, semi-sheer fabrications combine to create floppy hair bows; nonchalant yet practical, they are emblematic of festival style. Tied haphazardly to one side, they recall a vintage tradition. Juxtapose with messy hair and vibrant make-up to avoid associations with granny chic.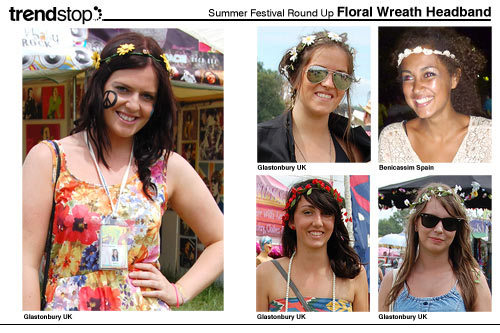 Floral Wreath Headband
Evoking a feminine whimsicality that borrow from the pastoral conceit, floral wreath headbands recall a plethora of summer tradition, from may-pole dancing to summer solstice. Accessorized with loose unkempt hair the vibrant blooms add a pretty delicacy to outfits; clash colors and outfits for an undone feminine charm.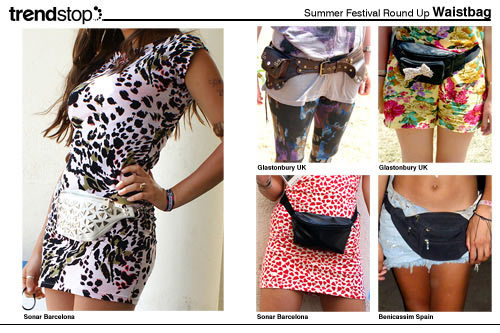 Waistbag
Worn low on the waist, the 80's fanny pack is a practical fashion accessory. Classic black leather options represent a conventional choice, whilst studding and multiple zips borrow from a utilitarian aesthetic. Clash with denim cut-offs, feminine prints or oversized blooms for idiosyncratic appeal.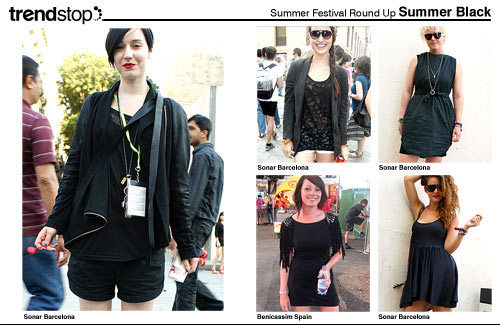 Summer Black
Top-to-toe black is a fashion pack favourite, rendered suitable for festival going in sheer fabrications and light-weight layers. Cotton tunic dresses are belted at the waist; fluid skater-style dresses in stretch jersey are fun and flirty. Boxy blazers and cuffed shorts borrow from the boys, as the appeal of androgyny subverts the current fascination with prim femininity.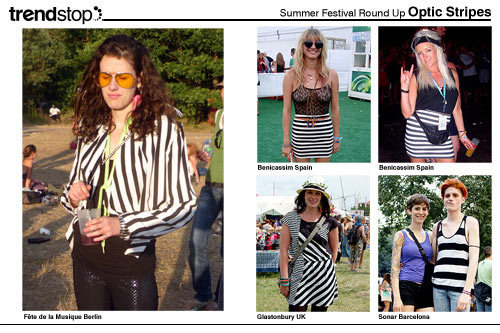 Optic Stripes
Create a statement in bold black and white stripes that reference the dazzling visual appeal of Op Art. Stretch jersey mini-skirts and body skimming shapes work the motif to the max, wear un-accessorized; the graphic stripes a strong statement alone. Combine widths and direction within one garment, an effect that can also be achieved by layering.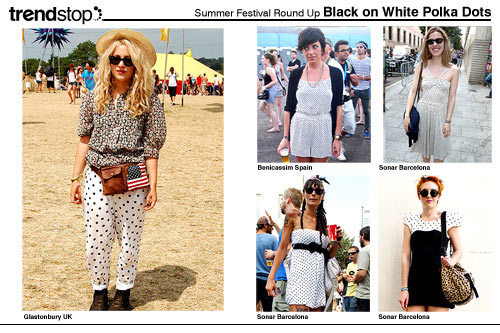 Black on White Polka Dots
The timeless appeal of the polka dot is ideal for summer festival dressing. Suitable for casual applications on jersey bandeau dresses, or on gathered halternecks, the motif references a feminine charm that never strays into the saccharine. Clash with a contrast print, or cinch silhouettes at the waist with a fabric belt.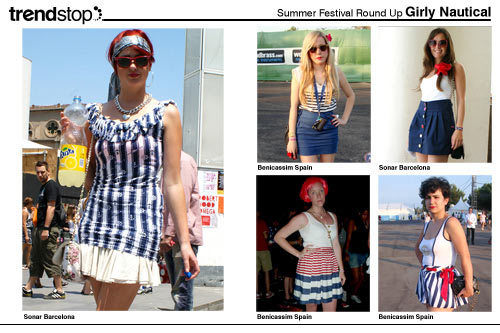 Girly Nautical
The universal appeal of the nautical tradition remains intact, imbued with a feminine charm. The classic color combination -blue and white - is lifted with accents of red, the story extending to accessories and make-up, for a fresh take on the trend. Varying stripe widths, mix-and-match buttons and neck scarves add a youthful insouciance, fusing classic with a quirky twist.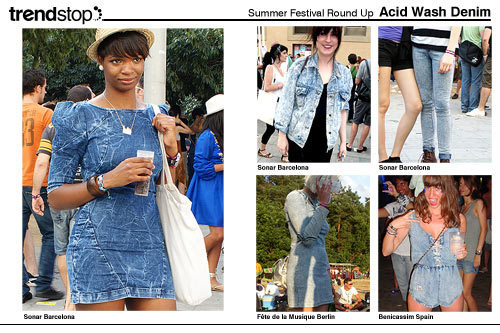 Acid Wash Denim
The influence of the Eighties inspires tight, body-con silhouettes and vintage-look boxy denim jackets. The style is casual and laid-back: sleeves rolled up to the elbow, dresses and playsuits worn with bare legs, and styled with battered straw hats and tan brogues.
Men's Street Style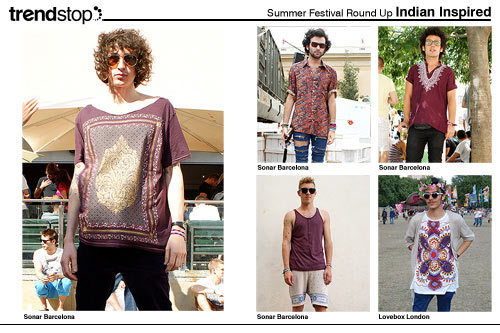 Indian Inspired
The Urban Bedouin trend, prevalent on the Spring Summer 2011 men's runway, inspires festival attire. Indian inspired graphics and swirling paisley prints are juxtaposed with simple square cuts, re-contextualized when paired with battered slim-line jeans. Eastern embroidery and gilded Moroccan motifs add interest to surfaces, and add an unexpected edge of decadence.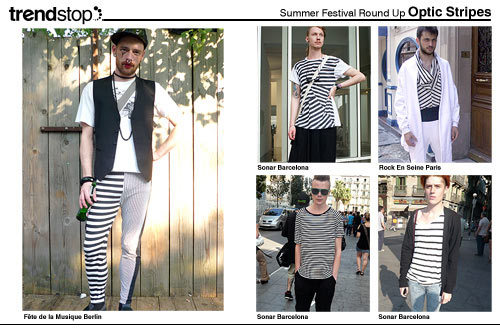 Optic Stripes
A minimal graphic tradition inspires optical black and white stripes. Simple silhouettes and skinny fit shapes juxtapose with draped necks and loose necklines, a laid-back approach to summer style. Mix and match stripe within garments, or pair with monochrome separates for immediate impact and an unexpected summer aesthetic.
Trendstop.com is a leading trend agency whose clients include leading brands, luxury brands, retailers, etailers, stylists and celebrities. Trendstop.com specializes in the commercial translation of conceptual trend looks to help you create best-selling on-trend styles. With access to vast image galleries, focused key trend reports, emerging trends and major themes updates, trendstop subscribers are always ahead of the trend.