Ethereal Surface Design Inspiration FW 2014-2015
Print & Surface, Women's Direction: Fall/Winter 2014-15 prints work to create an ethereal air of enchantment, as designers are inspired by White Wiccan and Romantic Illusion styles, say the trend analysts at Trendstop. Taking cues from shadowy landscapes and creative takes on nature, these are looks that appeal to the eye with a mysterious allure.
Romantic Illusionist Print Direction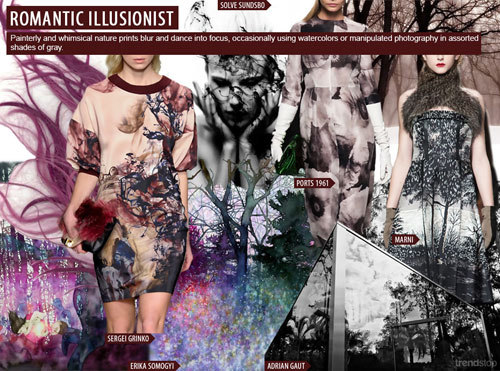 This surreal trend warps prints with the use of manipulated imagery and illustration, making for a dreamy finish in assorted shades of gray. Marni opts for an all-over landscape illustration, while Frankie Morello creates a kaleidoscopic effect with photography and Peter Pilotto structures an abstract print with black and white framing.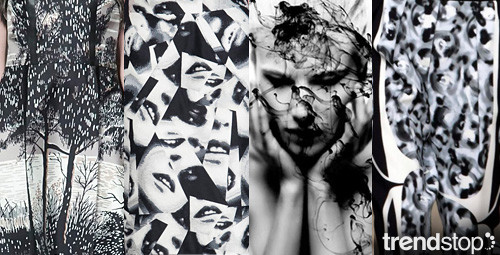 image courtesy Trendstop: Marni, Frankie Morello, both F all/Winter 2013-14, Solve Sundsbo, Peter Pilotto Fall/Winter 2013-14.
Natural references are key to capturing a romantic mood, with abstract applications making the trend ideal for both junior and contemporary markets. Sergei Grinko's dress incorporates a painterly take on florals, while Ports 1961 strip back their design in monochrome for an austere elegance. Helmut Lang offers a feminized take on sportswear blocking with a watercolor panel.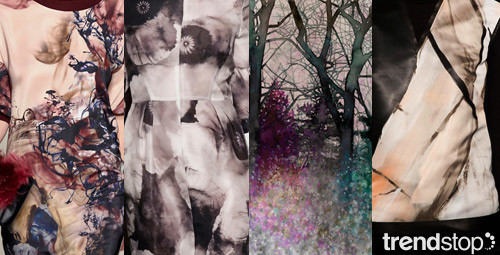 image courtesy Trendstop: Sergei Grinko, Ports 1961, both Fall/Winter 2013-14, Erika Somogyi, Helmut Lang Fall/Winter 2013-14.
White Wiccan Print Direction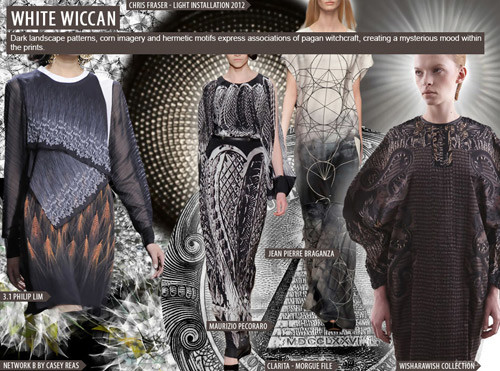 Dark landscapes and symbolic motifs surface in moody colorways to inspire notions of pagan witchcraft. Monochrome colorways create a shadowy look, as seen in Maurizio Pecoraro's woven print and Kenneth Cole's bird patterned biker update, while The Academy of Art University opts for abstract illustration placements.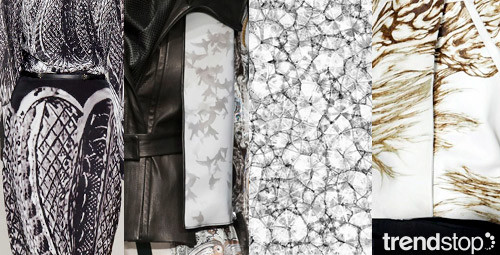 image courtesy Trendstop: Maurizio Pecoraro, Kenneth Cole, both Fall/Winter 2013/14, Casey Reas, The Academy of Art University F all/Winter 2013-14.
Bold constructions underline mysterious surface statements, creating directional styles for the contemporary market (and the 21st century sorceress). Blown-up shapes draw attention to Mary Katrantzou's frosty forest and Wisharawish's midnight embroidery, as Jean Pierre Braganza opts for geometric symbolism on structured silk.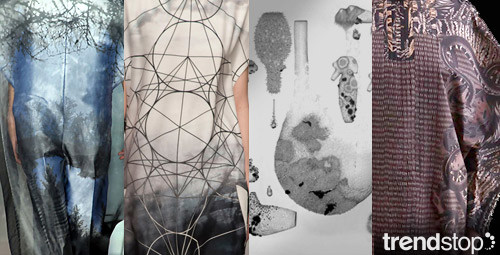 image courtesy Trendstop: Mary Katrantzou, Jean Pierre Braganza, both Fall/Winter 2013-14, Amber Stucke-Survival, Wisharawish Collection.
Purchase the Full Report
The Print & Embellishment Trend Book Fall/Winter 2014-15 - is available for purchase at Trendstop.com.

Trendstop.com is one of the world's leading trend forecasting agencies for fashion and creative professionals, renowned for its insightful trend analysis and forecasts. Clients include Forever21, Ralph Lauren, H&M, Hugo Boss, and L'Oreal.