Emerging Trend Mens FW 2013-14
While gem studding may not sound like the most masculine of embellishments, its runway rendition recalls testosterone-fueled templates - from punky emblems to matador preenings. The trademark silver studs of the punk era go luxe and come bejeweled, simultaneously reworking a DIY aesthetic and giving a street smart slant on luxury embellishment.
Accessories & Apparel Embellishments
Dressed Up Studding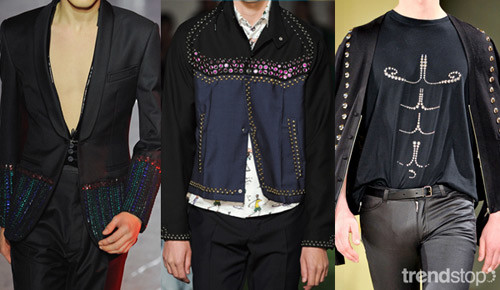 From left: John Galliano Winter 2012, Prada Spring Summer 2012, Alexis Mabille Winter 2012
Dark navy and black grounds showcase a rainbow effect of gemstones; emerald, ruby and sapphire jewels are panel placed on the hem and cuffs of a tux at Galliano or amethyst gems trim the yoke style lines of a boxy cotton jacket at Prada.
Gold Digger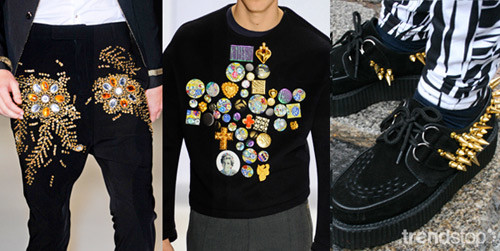 From left: Rynshu, Christian Lacroix; Winter 2012, London Street Style 2012
For the ultimate in bling, gold studding on black has glamorous evening appeal. Rhinestones are applied around the hip of black tailored trousers at Rynshu or badges and pins form a luxury punk-esque cross on a sweater at Christian Lacroix.
Rebel Red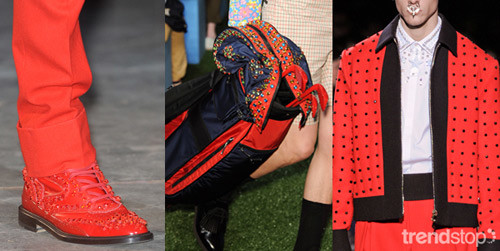 From left: Givenchy Winter 2012, Prada Spring Summer 2012, Givenchy Winter 2012
A palette of red and black offers a rebellious air for this trimming trend, recalling a modern matador with black star gems on a red jacket at Givenchy (complete with nose rings) as well as tonal red on red studs on a brogue hi top. Prada's golf bag introduces a high fashion sports statement.
Sartorial Rock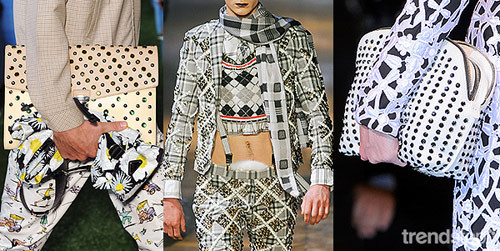 From left: Prada Spring Summer 2012, Thom Browne, Versace; Winter 2012
Alternatively, go cream or neutral for a sartorial chic take on classic rock 'n' roll studding, as applied all-over on clutch bags at Prada and Versace, and on tailoring with gems placed over check patterns at Thom Browne.
MORE TREND FORECAST DETAILS
A variety of trend reports are available at Trendstop.com, one of the world's leading trend forecasting agencies for fashion and creative professionals. The agency is renowned for its insightful trend analysis and forecasts. Clients include Forever21, Ralph Lauren, H&M, Hugo Boss, and L'Oreal.