Emerging Color Trends FW 2013-14
Color Trend Direction Women's Men's Accessories Beauty: View an emerging color trend that has long range impact - Lavender. Frosty blooms of pallid Winter Lavender impart a ghostly air to day and eveningwear, accessories, the beauty market and street style alike. As a soft demure winter pastel with a cold edge or an exhilerating pop, lavender is here.
Women's and Men's Color. Lavender
Winter Lavender is a key color that has been seen on the runways and emerging within Street Style. This trend is a small taster from one of Trendstop.com 's diverse "Ones to Watch" reports where trend experts have identified key themes and colors on trend this season.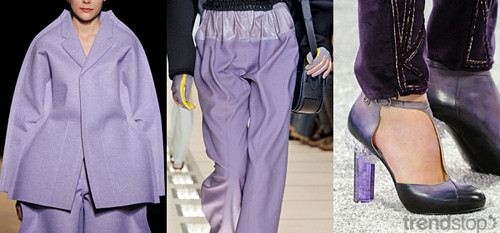 WINTER LAVENDER
Frosty blooms of pallid Winter Lavender impart a ghostly air to day and eveningwear alike, as a soft demure winter pastel with a cold edge emerges. Statement flannel silhouettes at Comme des Garcons and Balenciaga are reminiscent of 21st Century Trekkie tailoring, while Chanel and McQueen present looks with a refined evening edge. Comme des Garçons, Balenciaga, Chanel, Winter 2012-13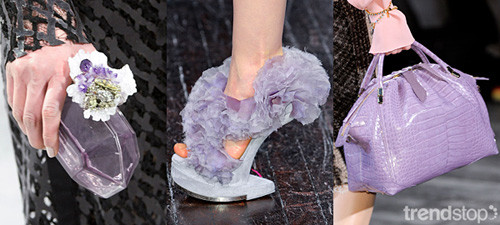 LAVENDER ACCESSORIES
Whether for day or evening, lavender adds a pastel pop to accessories, such as the clear Perspex heels and hard cases at Chanel, gravity-defying raw edge ruffled heels at McQueen, and mock croc holdalls at Nina Ricci. Chanel, Alexander McQueen, Nina Ricci, Winter 2012-13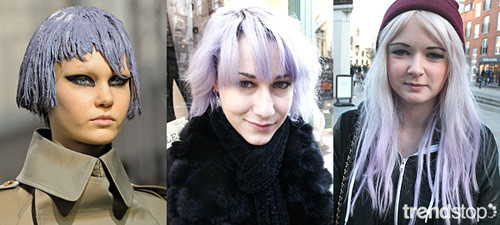 LAVENDER HAIR
Fashion colors follow through increasingly into hair, and Winter Lavender is no exception, as the Trendstop.com style spotters report from the East London street scene. Colored statement wigs were a frequent feature at the fall/winter 2012 runway presentations, with Junya Watanabe opting for cold lavender blue for one of his looks.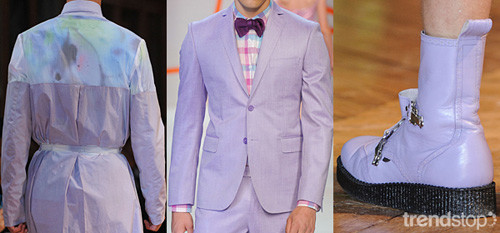 LAVENDER FOR MEN
In menswear Winter Lavender works as simple spring fresh tailoring, or as an unexpected pop on creeper sole boots for a softened take on the biker look, as seen at Mugler and Enrico Coveri. 1 & 3 Mugler, 2 Enrico Cover, Winter 2012-13
Trendstop.com is one of the world's leading online trend forecasting and analysis services for fashion and creative professionals that is renowned for its trusted trend analysis and forecasts. The company provides clients with insider access to global trend research and analysis, comprehensive fashion galleries, and ongoing trend updates, and has worked with clients such as Forever21, Marks & Spencer, H&M, Hugo Boss, and L'oreal.