Emerging Accessories Trends FW 2013-14
View an emerging accessories trend in the handbag category that has been swarming the catwalks. It's a key item with unisex appeal: the iClutch. Featured, an editor's pick of slimline clutches tailored specifically for iPad proportions from Classic Lady to Blue For Boys.
Unisex Slimline Clutch Bags
Is it a clutch bag, is it an iPad case? No, it's an iClutch, the chicest way to carry your iPad from A to B, along with your cards, keys and essential cosmetics. The Trendstop.com trend forecasters have selected five different catwalk looks to choose from: the Classic Lady, the Playful Pop, All White, Blue for the Boys and the New Yorker. The unisex appeal of these slimline clutches means business, and come tailored specifically for iPad proportions.
CLASSIC LADY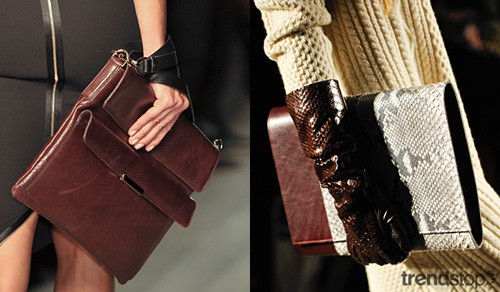 Classic Lady is refined yet delectable in Ecuadorian chocolate leather for ultimate office chic. It has a luxe Italian feel, featuring understated gold hardware at Victoria Beckham and contrast python paneling at Yigal Azrouel. Image: Victoria Beckham, Yigal Azrouel, Winter 2012-13.
PLAYFUL POP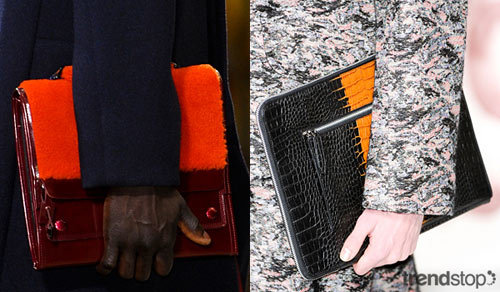 If a work vs. play balance is important to you, then go for Playful Pops in Alert Orange: Kenzo's classic satchel side pockets are enlivened by a touch & feel furry texture panel, whilst Dries van Noten's croc clutch retains a classic document case look with a tangerine orange reptile block. Images: Kenzo, Dries van Noten, Winter 2012-13.
ALL WHITE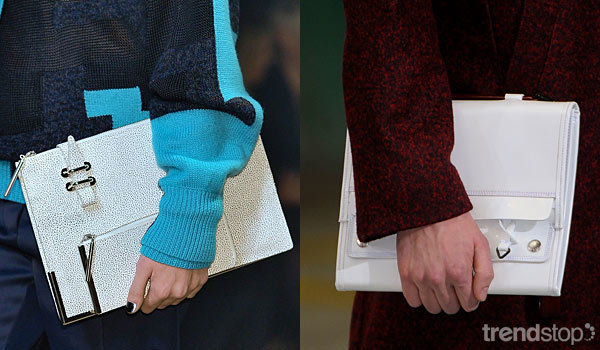 Alternatively, strip color back completely into pure white as seen at Kenzo and, with polished silver hardware, at Phillip Lim. Images: 3.1 Phillip Lim, Kenzo, Winter 2012-13. Alert orange color pops in neon vislon or plastic tubing add a sports appeal to multi band chokers and stacked rubber bangles.
BLUE FOR THE BOYS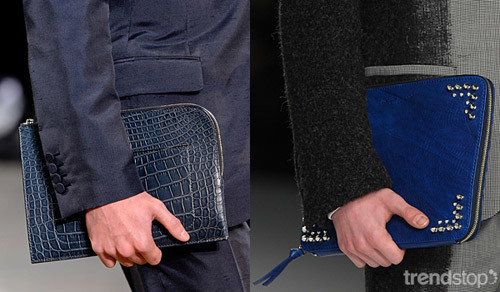 The ubiquitous Blue for the Boys provides a less formal take on classic black. Zipped document wallet styles in luxe reptile at Louis Vuitton have understated appeal, whilst silver studded comers add a touch of Rock 'n' Roll at Frankie Morello. Image: Louis Vuitton, Frankie Morello, Winter 2012-13.
THE NEW YORKER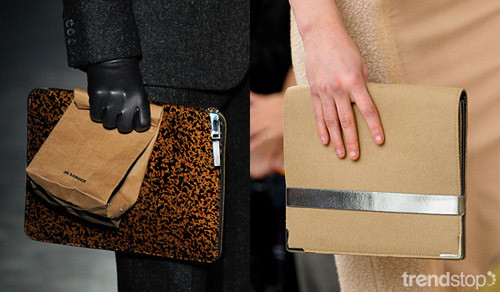 Finally, the New Yorker is all minimalist chic with modern architectural materials and clean detailing. Camel wool felt and a silver statement strap channel the Celine aesthetic at Alberta Ferretti, while a modernist mottled tortoiseshell pattern iClutch at Jil Sander is styled complete with a paper bag for an authentic NYC working deli lunch reference. Images: Philosophy di Alberta Ferretti, Jil Sander, Winter 2012-13.
MORE TREND FORECAST DETAILS
A variety of trend reports are available at Trendstop.com, one of the world's leading trend forecasting agencies for fashion and creative professionals. The agency is renowned for its insightful trend analysis and forecasts. Clients include Forever21, Ralph Lauren, H&M, Hugo Boss, and L'Oreal.