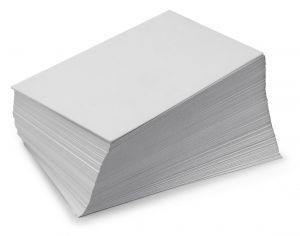 Elements of a Good Business Card
Business cards are one of the most effective ways of communicating your business to others, especially to prospective fashion industry clients and other businesses you work with. They are also are a great way to give a visual first impression of you and your organization. A sloppy layout or out-of-date information listed is a signal that you are not a serious connection. Spend the time to think about your fashion brand and how it should be represented.
Necessary Elements
Name of Business
Almost all business cards have the business name right where one can see it. Although, business names aren't necessary for freelance workers and other types of professionals who aren't linked to a company. Besides those instances where a business name is not needed, this is the most important element.
Name of Individual
Not always necessary, but preferred. This gives the recipient a person that they can contact directly instead of having to go through various transfers. It also provides a personal touch to the card. This element and the business name is probably the most important parts of the card.
Title/Position of Individual
Giving a business card with just your name doesn't quite answer the question of what you do. Therefore, having the position or title of the person giving a card out helps to clearly identify what the position is that they hold. If you are a sales representative, have it say so on the card, that way if the recipient needs to contact your company, but only needs some sales information, they know just who to contact.
Contact Information
This includes, but is not limited to: phone number (voice, fax, cell, Skype), email, address, website and social links. Giving out a card is one thing, but if there is no contact information, the card is useless. If you choose not to give so many numbers out, just give the company's main line with an extension to you directly. Physical address is also extremely important, whether it is a P.O. Box mailing address or physical address. In the very least an address should include city, state/provence, and country as many small office / home office (SOHOs) and pure online business owners have been opting for these days.
The Logo
This is how a customer can identify who you are and who your company is. Make sure to put it on, not just business cards, but all stationary. It can sort of be considered your calling card.

Optional Elements
Description of Business
A tagline can be quite useful to a business card, and usually doesn't take up too much space. It is even better if your company name is some what unclear. For instance, The Ashianah Company is quite an ambiguous name, however with the tagline: "Imports from around the world at unbelievable prices," you know what this company does.
Graphic/Decorative Images
Sometimes, small companies may not have a logo, and therefore rely on decorative and graphic aspects to give a little "oomph" to the card. These can be custom illustrations, simple geometric shapes, or pictures.
List of Services/Products
Sometimes, this can clutter a business card, but if using a two-sided card, it can prove to be a little beneficial. A long list is not recommended, but a few bullet points summarizing the main products/services offered can really be quite useful.

Designing and Printing Resources
There are many ways to achieve a well designed business card. If you have the knowledge and are at least proficient in design programs, such as Adobe Illustrator or QuarkXPress, you can design your own card. There are also several software programs designed especially for the production of business cards.
Best yet, many online printing services offer tools that make the design process easy, such as: free business card designs that can be personalize with your own details, or a range of business card templates to choose from with the option to upload your own logo. Here's a couple of resources to check out:
Zazzle, offers really awesome graphics, colors, etc. Great for creative companies and they do the printing too!
MOO is another all-round great find for designing amazingly creative business cards using templates or free designs. They print too.
Mashable, if you need business card inspiration, start here with 30 unconventional business cards.
The good thing about business cards is that you can always buy them in bulk for really good prices and they are a great business networking tool.

More Report Details