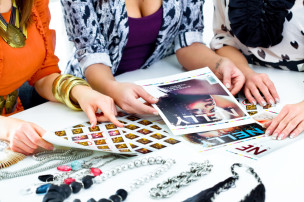 Editors & Press USA
$875 - $1500
If you're looking to contact Magazine, Newspaper, & Blog editors, Fashion Directors and headquartered in the United States, this is your list. Choose your contact amount: 1000 or 2000 names are available.
This list is an excel file sent to your email address and is perfect for Better, Contemporary, Bridge and Designer Level Manufacturers and Wholesalers.
Get the press contacts your business needs by ordering today. This list is updated every 6 months by our own PR professionals so you can feel good you'll get a great list.
Product Lines
Apparel, Accessories & Fashion Focused Press Contacts.
Feature Publications
ACCESSORIES MAGAZINE, BUST, CALIFORNIA APPAREL NEWS, COSMO, DAILY CANDY, ELLE, ESQUIRE, ESSENCE, FOAM, FOOTWEAR NEWS, GLAMOUR, HARPER'S, INSTYLE, LUCKY, MODERN, NEW YORK MAGAZINE, NEW YORK TIMES MAGAZINE, NYLON, OPRAH MAG, PAPER, SELF, SEVENTEEN, SURFACE, TEEN VOUGE, TOKION, VANITY FAIR, VIBE, W MAGAZINE, WWD.
Top Blogs
REFINERY 29, FASHIONOLOGIE, THE FASHION INFORMER, FASHION TOAST, FASHION ADDICT, JC REPORT, FASHION WIRE DAILY, & STYLE BUBBLE.
Job Titles
Fashion Director, Fashion Reporter, Accessories Editor, Fashion Market Editor, Features Editor, New Products Editor, Senior Editor, Editor-in-chief, Online Editor and publisher.
How is it Sent?
This list is sent to your email address as an excel file attachment. Some lists may take 3 - 5 business days to verify, others are emailed immediately.
Add this press list to your cart and start creating buzz.