Directional Womenswear SS17 Color Report
This week, the Trendstop catwalk team gives WeConnectFashion readers an exclusive insight into three of the essential color directions emerging on the Resort catwalks, first identified in our SS17 Color Forecast. Red Brick and Rich Denim Ink introduce richer, deeper hues into the Spring/Summer palette with a saturated dose of color that updates classic casuals while Vanilla Cream brings a cool sophistication and a feminine touch to structured silhouettes.
Red Brick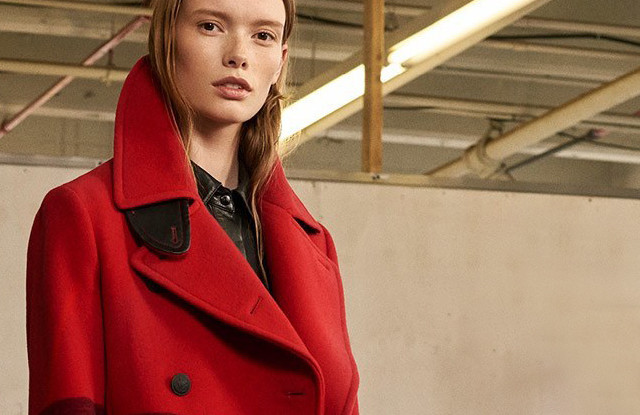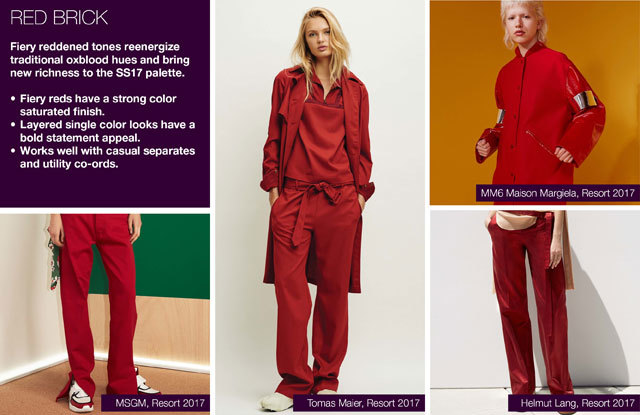 Fiery reddened tones reenergize traditional oxblood hues and bring new richness to the SS17 palette.
Fiery reds have a strong color saturated finish.
Layered single color looks have a bold statement appeal.
Works well with casual separates and utility co-ords.
Top image courtesy of Trendstop: Rage and Bone Resort 2017 collection.

Vanilla Cream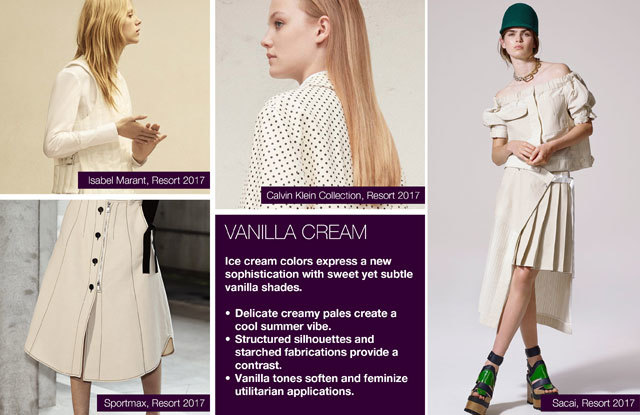 Ice cream colors express a new sophistication with sweet yet subtle vanilla shades.
Delicate creamy pales create a cool summer vibe.
Structured silhouettes and starched fabrications provide a contrast.
Vanilla tones soften and feminize utilitarian applications.

Rich Denim Ink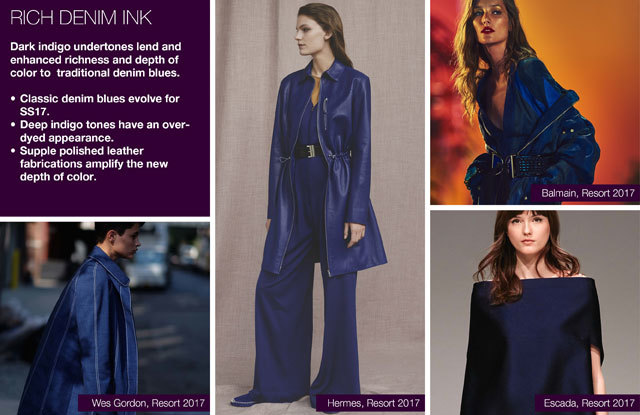 Dark indigo undertones lend and enhanced richness and depth of color to traditional denim blues.
Classic denim blues evolve for SS17.
Deep indigo tones have an over-dyed appearance.
Supple polished leather fabrications amplify the new depth of color.
All images courtesy of Trendstop.

Exclusive Offer
WeConnectFashion readers can get free access to Trendstop's Fall 2017 Color Video Presentation; an essential video containing advanced tips for successful color selection and revealing the best-selling color for Fall 2017.
Click the banner to receive your complimentary presentation.


Trendstop.com, is the world's leading trend forecasting agency for fashion forward trend information that is validated through early consumers to give you confidence in your trend decision making. Clients include H&M, Primark, Forever21, Zalando, Geox, Evisu, Hugo Boss, L'Oreal and MTV.
Related Reports