Coterie And D & A Report SS 2018
Spring / Summer 2008 - ENK put on another excellent show in New York City at the Jacob Javits Convention Center for women's wear and accessories. The Coterie had exhibitors from a vast spectrum displaying sportswear and contemporary collections including premium denim. Not far away, the Designers and Agents (D & A) show, located at the Starrett Lehigh Center and the Chelsea Art Museum, ensued. Buyers were racing between the trade shows for spring/summer '08 and the fall '08 New York Designer Collections. On the trade show front, spring and summer apparel exhibited bold prints in a wild variety of exuberant colors. Garments were embellished with over-sized buttons, metal hardware and other eye-catching adornments. In all, we dive back in time to the 70's and 80's with a retro feel and a sea of neon colors.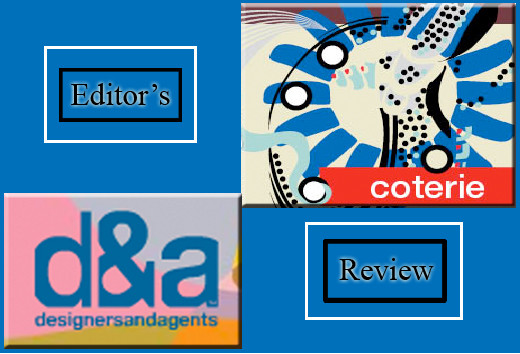 Zaldy For Everlast, 10 Eleven Showroom had an overpowering exhibit for women's contemporary sportswear. Elegant dresses for the spring and summer appeared as if they were draped onto the mannequins with no formal sewing techniques. Fluidity and feminine chic were of high priority (see dresses below).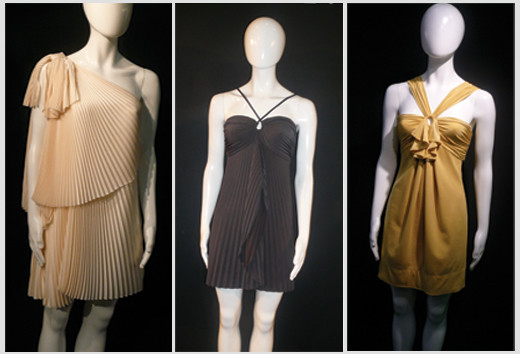 Exhibitors showed off their unique embellishments on premium denim and other sportswear collections. Premium denim was at its finest, and was seen around every corner. Exhibitors such as Antik Denim, Bread Denim, dVb Denim by Victoria Beckham, Fortune Denim, Fabrizio Gianni along with many more proudly displayed their exclusive denim of supreme quality. Fortune Denim had a unique style, with Eastern influences prominent on the back pockets (viewed below on bottom right) and Swarovski buttons intricately placed throughout the collection (seen below on top left). Unicite used metal pendants with marble and plastic hardware, along with tiny pebbles or shells, and sand inside to enhance their spring dresses (viewed below on top right and bottom left). Large buttons are a widespread trend for the fall '08 collections, especially on knitwear and outerwear. Kier And J demonstrated over-sized buttons on all of their knitwear, such as the white knit sweater with kimono sleeves and wooden buttons viewed below. Trina Turk and Rag & Bone had a superb display of oversized buttons on their skirts and coats.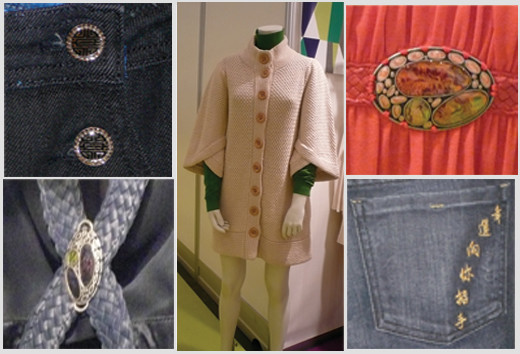 Aude fall collection consisted of stripes on much of their sportswear collection. Using contrast colors like pink and white (as seen below to the right), and white and black (viewed below on the left). They also had a burnout collection on their tanks, and button-up tops in a variety of colors (seen below). Some tops had hoods, and each outfit was accessorized with scarves that also shared the burnout effect.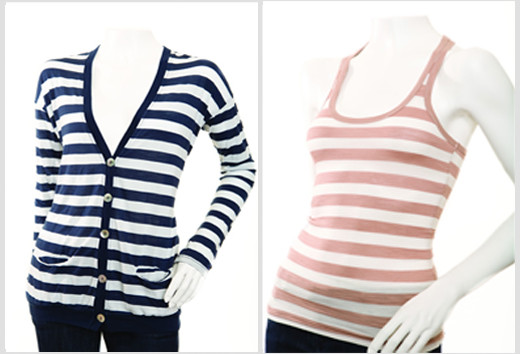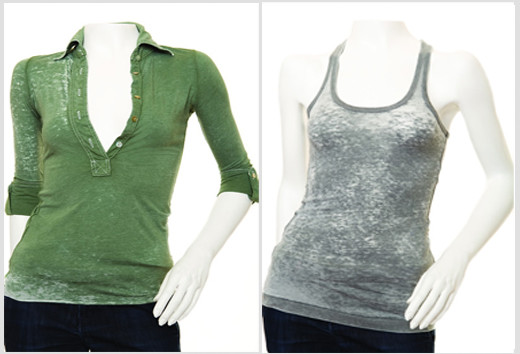 Wild floral prints were popping up every where this spring and summer. Bold colors with asymmetrical lines and geometric shapes cover the body from head to toe. Shoshanna eye-catching collection included a floral-print dress that had a belted empire waist with a wooden buckle (viewed below on left) and a fuchsia, geometric print swing dress with black trim (seen below on right).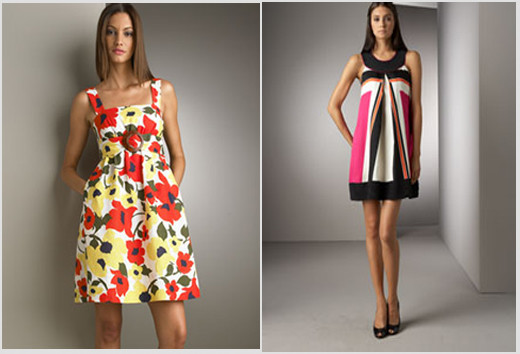 Many designers decided to take a step back to the 60's, 70's and 80's for inspiration. Odd Molly was flocking with buyers because of their hippie style shirts, skirts, and dresses. They put colored prints over prints and played with tie-dye reminiscent of the 60's and early 70's, as seen below on right. Fortune Denim incorporated a little bit of the 60's and 70's into their collections with era inspired silhouettes and prints, such as the silk print dress with a scoop neckline and maze-like design with bold straight lines (viewed below on left).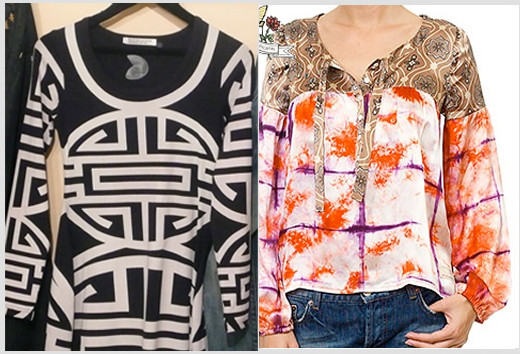 Now we step further into the 70's and 80's with more of a retro style and neon colors. Trina Turk has an excellent fall collection that shows a modern update to retro fashion of the 70's and 80's. Viewed below is a violet Hijinx dress (on right), a neon blur twill Dali dress with neon orange hosiery (in middle) and a Phyllis knit sweater dress with pink hosiery (on left). Along with the vibrant colors, Trina Turk also used loud floral prints and different pattern designs (as seen below), with the gorgeous roses hammered silk Allegra dress (on left), the Bon Bon tile print blouse with the Sanford twill suiting pant (in middle) and the sateen Origami dress on right. Trina Turk accessorized the collection using fingerless gloves made out of knit silk, cashmere or wool in an assortment of colors to match each outfit. Large gold metal jewelry was also used around the waist, neck and wrists as additional decoration for the collection.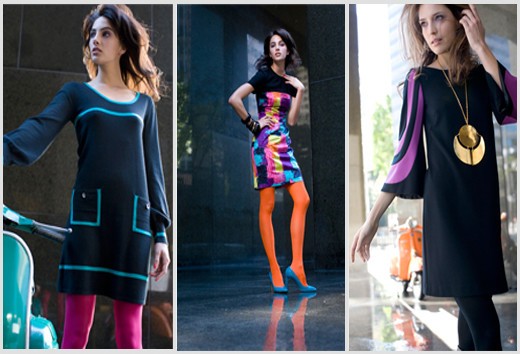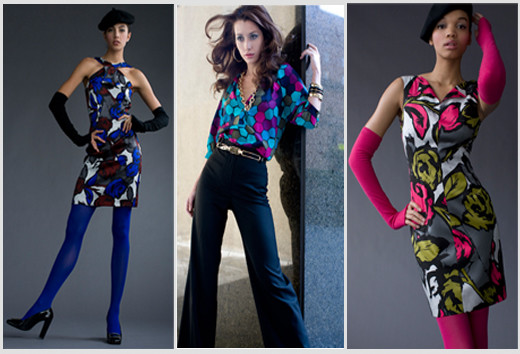 Plaid is another big trend on display for fall. The organic pioneers, Stewart And Brown, drew a huge crowd because of their plaid knitwear collections. Viewed below is a button up plaid dress with ribbon neckline, brown knit leg warmers used as arm-warmers and a brown knit hat with tie. Part of Tibi fall collection included a black and red plaid pant, with a red blouse layered on top of a black long-sleeve shirt, and a brown belt on the waist (viewed below on right). It also included a red and black plaid coat with a brown belt to accentuate the waist (seen below on left). Tibi also had a red and black plaid cape with matching button-up blouse and ruffled skirt in their collection.
Accessories were brilliant at both shows and exhibitors had intriguing displays. Ransom + Scout And Company, based out of Santa Fe, New Mexico, had an unusual collection of handbags and accessories (as seen below in the middle and on the top left). These sophisticated hand-printed Italian leathers tell a fairy tale of the whimsical characters on the handbags and the stories are written on the sides of the bags similar to a magazine article. !!! INFWJ0001174 !!! also had beautifully crafted leather handbags and wallets in an assortment of colors. Viewed below on bottom left, is a crème and brown square wallet. On the top right, is a black ruffle banana bag, and on the bottom right, is a white ruffle short bag.