Chill Out Accessories Trend Report Women's 2009
Street style as seen in three of New York City's trendiest areas. Popping color plays a defining role for accessories and ready-to-wear, an optimistic harbinger of spring and things to come in future seasons. Part of an ongoing series, *Trend Of The Week * newsletters are usually only accessible by subscription. This report is made available to WeConnectionFashion visitors courtesy of AccessoriesDirections.com, the accessories only trend forecasting group.
Spring 2009
accessories & color inspiration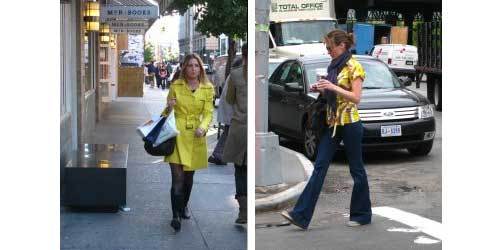 New Yorkers have experienced an unusually chilly May. (Hey, isn't is supposed to be nearly 70 degrees by now?) Nevertheless, followers of fashion in three of the city's trendiest neighborhoods can't wait to break out the most fun, bright colors in their wardrobes. Here, in Nolita, a vivid yellow trench coat "springs" to life on a cool afternoon. Or, why not mix up the seasons by pairing a solid scarf with a vibrant T-shirt?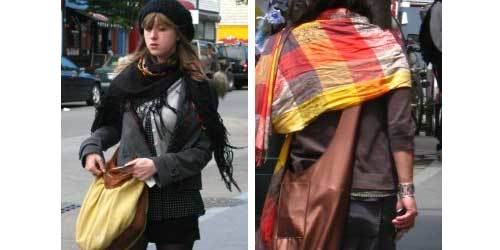 New York's Meatpacking District is unquestionably a shoppers' paradise. Here, we spotted a unique accessories combination: a classic black Parisian-esque beret paired with a fringed scarf. For a contrasting pop of color, a bright yellow cross-body bag adds the perfect finishing touch. And who wouldn't love this boldly hued Buffalo check wrap?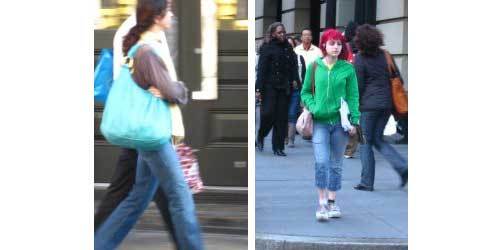 Although the hype surrounding the hip Brooklyn neighborhood Williamsburg has died down over the past few years, its trendiest residents haven't lost their edge. Denim remains the staple of every hipster's wardrobe, and is complimented perfectly with an oversized leather bag (upper left) in bold turquoise. And this hipster's fuchsia-colored hair (upper right) is an accessory unto itself! editorial credit: James Boone