Back To Nature, Women's Print Trends S/S 2016
Early Indicator Trend, two key print trends for S/S 2016. Back To Nature. This season, heralds a fresh return to nature, as fashion prints demonstrate a renewed focus on organic, earthy aesthetics, say the trend analysts at Trendstop. Graphic Marble offers a modern twist on mineralized patterns, while Scratch the Surface infuses looks with a crude, untreated natural feel.
Graphic Marble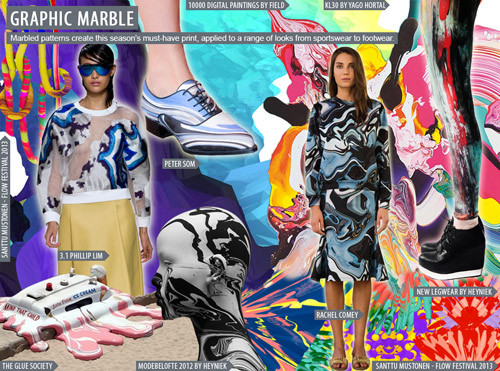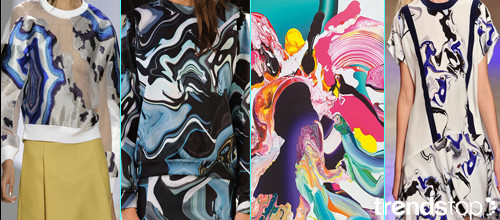 image courtesy Trendstop: 3.1 Phillip Lim, Rachel Comey, both Spring/Summer 2014, KL30 by Yago Hortal, ICB Spring/Summer 2014.
APPAREL
This Multi-Application print trend is all about revamping recognizable marble patterns with a bold graphic finish, bringing styles to life with a vivid intensity. 3.1 Phillip Lim underlines the striking effect with both color pop and sheer detailing on a sweater. Meanwhile, fluid digital prints impact with shades of black, white and blue on ICB dresses and Rachel Comey coordinations.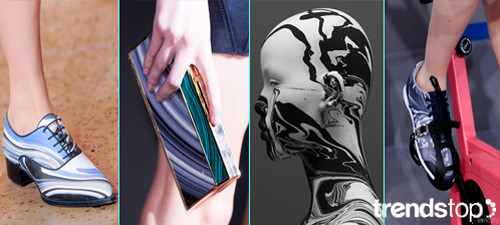 image courtesy Trendstop: Peter Som, Anya Hindmarch, both Spring/Summer 2014, Modebelofte by Heyniek, Adidas by Stella McCartney Spring/Summer 2014.
ACCESSORIES
Ideal for the Junior and Contemporary Markets, Graphic Marble's flowing patterns also stand out on Spring/Summer accessories. Formal footwear catches the eye at Peter Som, as gently curved patterns look luxurious on enameled Anya Hindmarch clutches. Stella McCartney's print is brought out by the plain black lace detailing on a pair of sneakers.
Scratch The Surface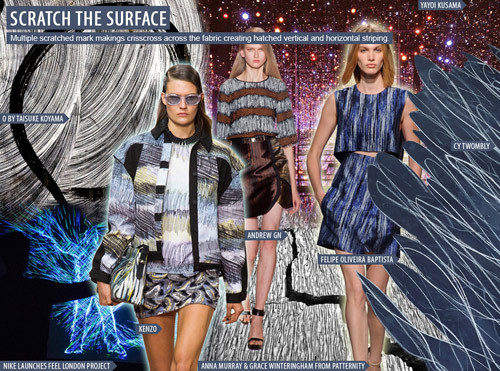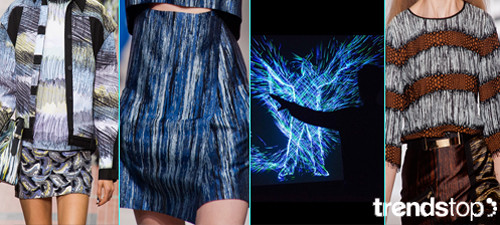 image courtesy Trendstop: Kenzo, Felipe Oliveira, both Spring/Summer 2014, Nike Feel London Project, Andrew GN Spring/Summer 2014.
APPAREL
Multiple scratch markings crisscross across fabric, creating hatched vertical and horizontal striping for a raw organic feel. Kenzo incorporates a DIY feel with illustrated scratch stripes, as patterns look refined with tonal blue hues at Felipe Oliveira. Andrew GN adds interest to a top with print mix bands.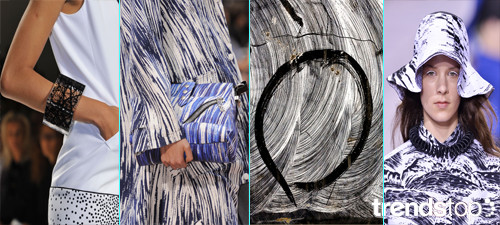 image courtesy Trendstop: Leonard, Kenzo, both Spring/Summer 2014, Taisuke Koyama, Kenzo Spring/Summer 2014.
ACCESSORIES
More versatile than Graphic Marble in that it's suited to all Market types, Scratch the Surface prints lend a natural world statement to a range of accessory styles. Kenzo leads the way with blue-tinged scratches on white on slouchy clutches and floppy sunhats, while Leonard offers a luxe alternative with suspended black scratches in a Perspex bangle.
THE FULL REPORT IS AVAILABLE NOW

Trendstop.com is one of the world's leading trend forecasting agencies for fashion and creative professionals, renowned for its insightful trend analysis and forecasts. Clients include Forever21, Ralph Lauren, H&M, Hugo Boss, and L'Oreal.