Apparel and Accessories Trends S/S 2017, The Big Overview
On view, excerpts from Trendzoom's S/S 2017 trend forecast reports. This BIG compilation offers a super inspired seasonal overview rich in detail for the Women's and Menwear markets. Find original design flats and surface pattern indicators along with key catwalk looks that influence incoming accessories and apparel direction. Themes include: Transborder, Mindtime, and Grounded. . . all courtesy of Trendzoom.
TRANSBORDER
Mood Board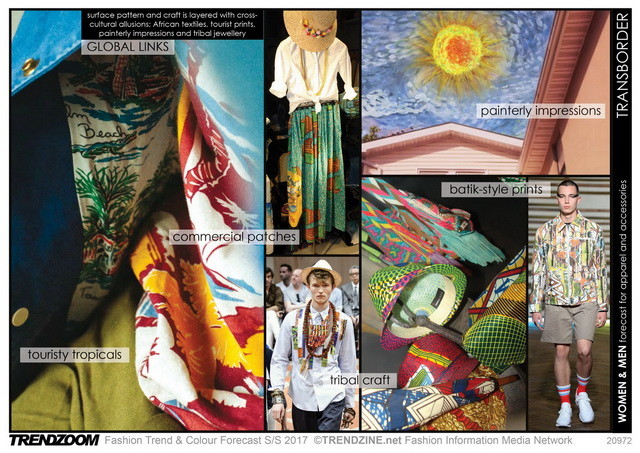 The cross-cultural layering that connects us to a globalized world. . . The TRANSBORDER trend brings a Latin energy that gives womenswear designs a sense of movement and translates into a retro Cuban vibe for menswear.

Womens / Youth Apparel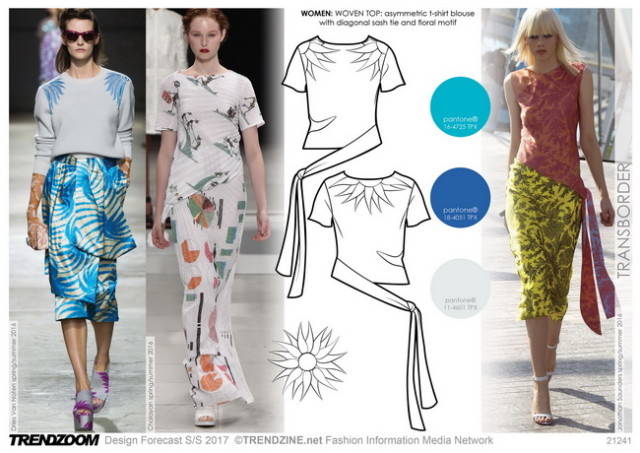 Latin energy pulses through exotic prints and across undulating surfaces. Edges are curved into waves and frills hang by threads or spill over hemlines.

Mens / Youth Apparel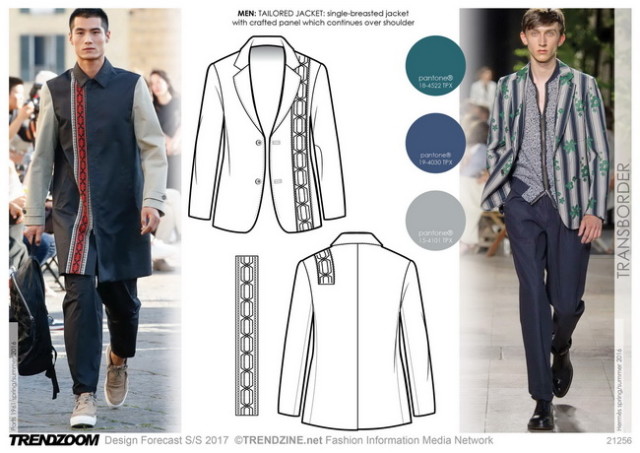 Prints and patterns create a tourist/travel vibe that gives styles a tropical look. Design leans into the fifties with a raised trouser waistline and easy, open-neck shirts.

Accessories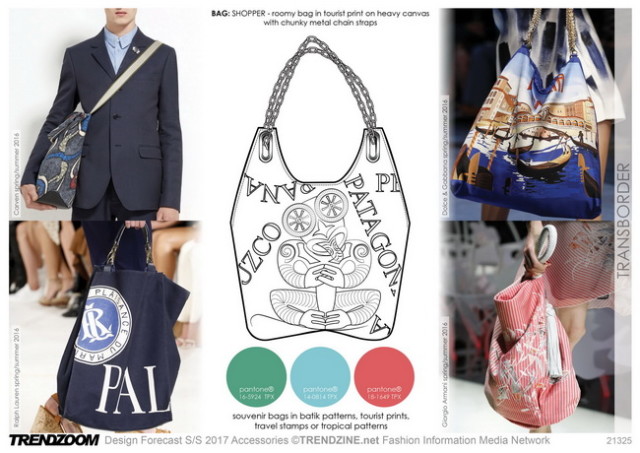 Transborder dips into Afropunk inspired jewellery, tourist inspired bags and tropical footwear. Colour is amplified and accessories pulse with vibrant energy. Details are touched with a sense of craft, and edges on leather goods are worked by hand.


MINDTIME
Mood Board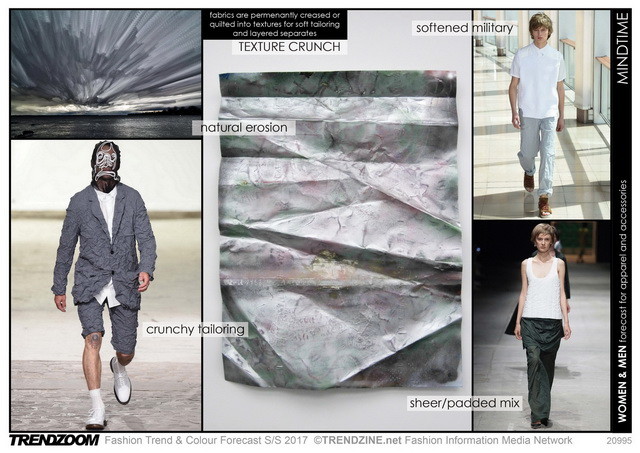 Conscious choices, meaningful experiences and a redefinition of time. MINDTIME the focus switches to relaxed, leisurely ease in fabrics with natural texture and raw finishes.

Womens / Youth Apparel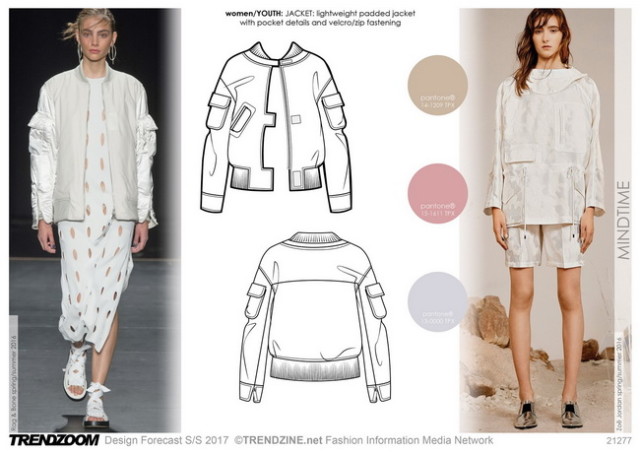 Sensually soft styles feature raw, unfinished edges and a natural tactile handle. Shapes are simplified with interest focused on off-kilter details, surprising contrasts and inviting textures.

Mens / Youth Apparel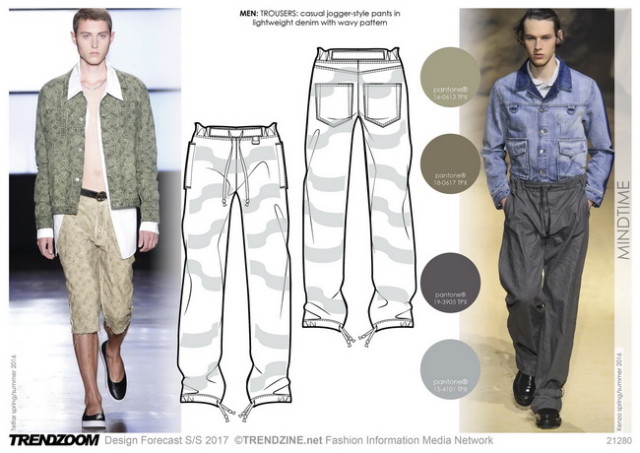 Easy loungewear and soft tailoring are elevated in luxury fabrics and relaxed finishes. Materials are creased and crushed into natural textures.

Accessories
Effortlessly slick, clean edges and surfaces with natural texture or unnatural smoothness. Styles are ergonomically designed and free from superfluous details. Mindtime applies a precise geometry across the board in a collection filled with surprising contrasts and slick lines.


GROUNDED
Mood Board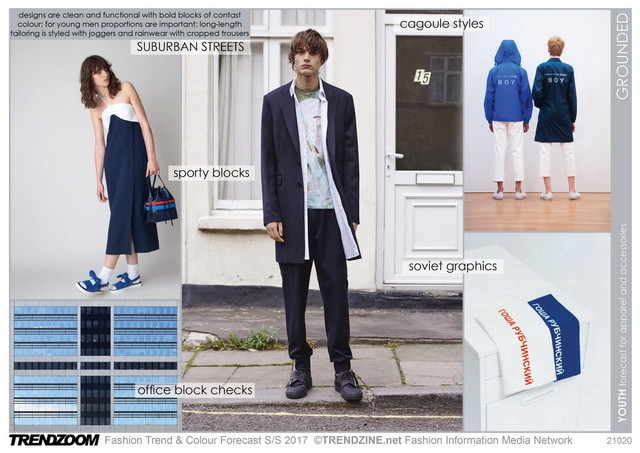 The honest integrity of design radiating from an inner-city environment. GROUNDED is rooted in practical and functional styles that radiate towards the familiar and authentic.

Womens / Youth Apparel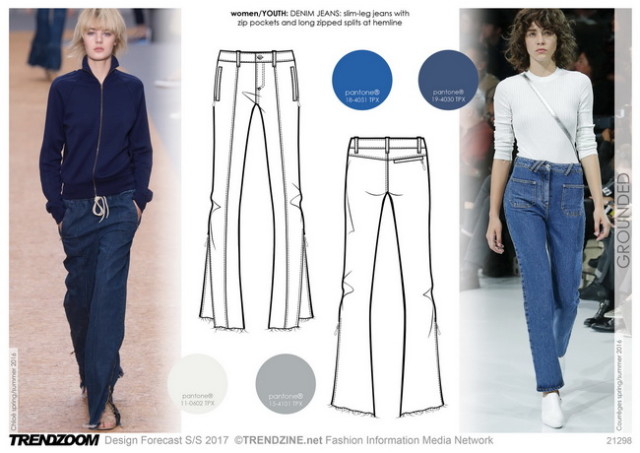 Graphic lines and lean, long and reduced styles form the backbone of this look. Designs are familiar but irregularities and off-centre details keep styles pushing forward.

Mens / Youth Apparel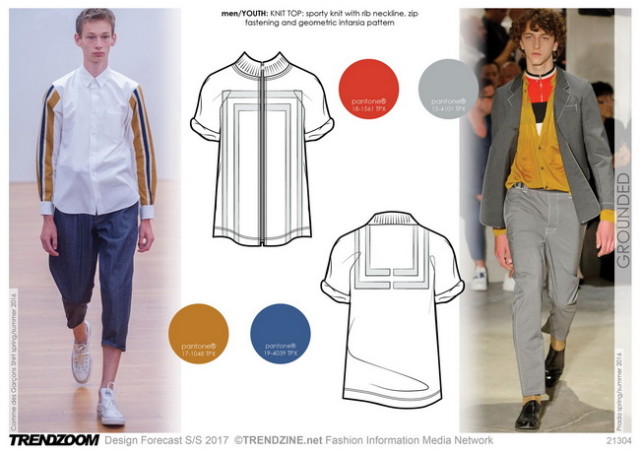 Soft tailoring and casualwear has a youthful, boyish look and silhouettes are connected to reality through worker/shopkeeper inspired references.

Accessories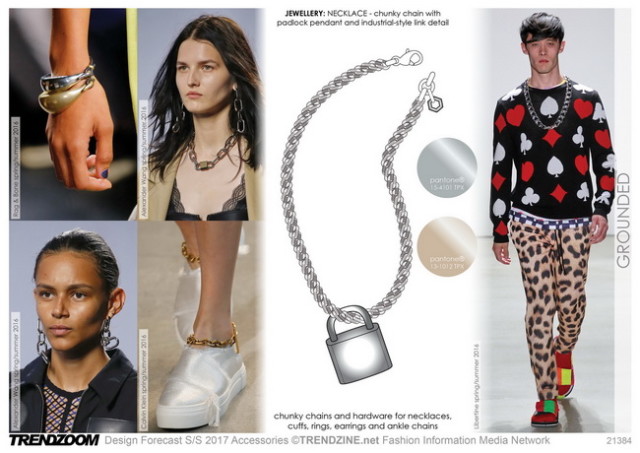 Accessories are grounded with a sense of purpose, and a reassuring familiarity that keeps the look real. Designs are rooted in the present but retain a retro appeal. Grounded keeps a sense of balance with designs that are rooted in the street yet still acknowledge retro and vintage influences.


MORE REPORT DETAILS


TRENDZOOM Fashion Trend Forecasting Service, delivers both long-term forecasting, and fast-response information to the fashion & design industries. The online, subscription service is an invaluable tool for design inspiration and covers womenswear, menswear, youth and accessory areas.