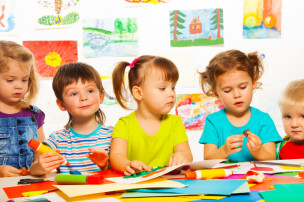 All About Children's Wear In The Uk
Summary
The UK children's wear market, defined as clothing for children less than 15 years of age, had an estimated market value of $14 billion. While there has been a year-on-year increase in spending on children's wear, the impact of discount retailers has been significant. Discount retailers accounted for 36% of all children's wear sales, compared to 24% of the total clothing market.
Discount retailers, led by Primark, have driven down the price points for children's wear. The major grocery chains, such as Tesco and ASDA, have also had a major influence on this market. These retailers have been keen to extend their non-food sales, and children's wear has become a prime new market. This trend has led to price cutting across a broad range of retailers in order to maintain their competitive positions. Industry experts expect discount retailers to account for 39% of children's wear sales within the next two years. An economic slowdown is likely to provide extra impetus to this growing trend.
Clothing for girls accounts for the largest share of sales in the market, although the under-15 female population is smaller than the male population. This is due to girls having more extensive wardrobes than their male counterparts. Also, the market is more fashion led, which boosts spending. Boys' wear has seen increased branding in recent years, but sportswear continues to play a major role. Additionally, the rise in the UK birth rate has resulted in increased spending on babywear.
Three in ten consumers in the UK purchase clothing for children. Even those without children tend to participate in the market by buying items as gifts. Finally, as children get older they are increasingly likely to purchase their clothing themselves.
Countering the heavy discounting in the children's wear market is the trend towards higher per-capita spending on children. This is largely due to smaller family sizes and parents having children later in life.
A focus on lower prices is not sustainable indefinitely, as profit margins will eventually reach a limit. As a result, price points at the bottom end of the children's wear market are expected to eventually rise and consequently boost sales values.
UK Children's Wear Market Demand
The increase in the UK birth rate has driven demand and expenditure levels on the infant and children's clothing markets. Current demand also benefits from a higher rate of per capita spending on children.
Market analysts anticipate that spending on children's products, including apparel, will rise in the medium term.
Demand in the UK children's wear market has seen a rise in 'luxury' brands. This is a trickle-down effect from the growth in the luxury markets for men's and women's wear, as well as other categories such as home décor. Other fashion trends influenced by adult clothing are vintage chic and prints. These trends have made their way to kids' wear as simplified versions of previous season's women's wear collections.
Other strong performing areas of the children's wear market are branded and character-licensed wear. While parents seek value for their children's basic everyday clothing, they are willing to pay more for unusual and special occasion outfits. These items tend to command premium prices.
Children's Wear UK Market Data
Since 2001 there has been a year-on-year rise in spending on children's wear, despite deflationary pressure on prices in this sector. Market analysts predict some price recovery in the UK children's wear market through 2010. There are limits to the absolute cost reductions that can be gained on an item of clothing with price points at the lower end of the children's wear market. Therefore, suppliers will be looking to move price points upwards over the medium term, in order to maintain margins as cheap sourcing becomes more difficult. Initially, this will mean a rise in the lower price points, but retailers and distributors will also be looking to add value.
Girls' wear accounts for the largest share of spending in the children's wear market, despite the fact that the female child population in the United Kingdom is smaller than the male child population. Additionally, per capita spending on girls tends to be higher, as girls are more likely to take an interest in their appearance and wear a greater variety of clothing than boys.
The girls' wear market is often divided on the basis of age group. The split tends to occur around the age of nine. Under-nines are more easily slotted into the traditional children's wear market, with items still tending to a carry a high degree of licensed characters and images from other media. This has been the most appealing end of the market for the newer players, such as the supermarkets, as this age group is less likely to dismiss something bought during a family food-shopping trip.
Over the age of nine, the client base is more vocal and discerning, and fashion is a larger and growing influence. For example, a few years back a number of UK suppliers adapted trends taken from the women's wear sector for the wear market. ### The over-nines are also more brand-conscious and eager to perform their own shopping.
Clothing for boys has also experienced growth, generally outperforming the overall clothing market. Many of the same factors affecting the girls' wear market are evident in the boys' wear sector, with increased fashion and brand awareness, and trading up boosting market values.
As mentioned, the rise in the UK birth rate has had a positive influence on children's wear sales. Infant wear is important strategically to suppliers, who hope that consumer loyalty at this stage will engage long term buying. This has encouraged the introduction of children fashions by major supermarket chains such as Tesco and ASDA, as well as value retailers such as Primark.
Children in the UK are expected to wear some type of uniform to school. This applies to both public and private schools. For this reason, school wear is one of the most competitive segments of the children's wear market, resulting in a current price war among value retailers. All retailers have been keen to differentiate their product lines. In 2005, "George" became the first retailer to offer Advanced Teflon across a number of garments, to aid durability and stain prevention. The same year, Woolworths upped the fashion element in its range by adding combat pockets to school uniform trousers and three quarter sleeves on cardigans.
In April 2007, National Schoolwear Centres launched the UK's largest sized school uniforms. The range included a 52-inch blazer, trousers with a 42-inch waist and a shirt with a 17.5-inch collar. The company stated that it had experienced a 25% rise in demand for 50-52 inch blazers year-on-year. Its uniforms, which were previously only distributed via mail order, are now available through the retail market.
According to the Health and Social Care Information Center, between 1995 and 2004, obesity among boys aged 11 to 15 rose from 14% to 24% and, among girls, it rose from 15% to 26%. However, according to National Schoolwear Centers, the issue is not solely one of obesity but the fact that children are taller and bigger generally.
For families there is a further issue, insofar as children's wear, under certain sizes, is exempt from VAT. Consequently, larger sizes are higher priced, owing to the additional cost of VAT. As a result, the Schoolwear Association, which represents school-uniform suppliers and manufacturers, is lobbying for the abolition of VAT on all school-specific children's wear.
Buyer Characteristics
Since the late 1990s, there has been a reduction in the percentage of women buying children's wear. This has been due in part to the aging child population and as a consequence, fewer children. However, the recent rise in the birth rate may lead to a slight uplift in the market over the medium term.
On average, the majority of buyers spend less than $100.00 per trip on children's clothing, a statistic that includes most gift purchasers. Women account for the largest share of spending on all price points, as they are more likely to be responsible for managing their children's wardrobe. Overall, approximately two men in ten buy children's clothing (20.7%). Likewise, two out of ever ten shoppers are likely to be light spenders (less that $100). Within many two-parent households, both parents are likely to be purchasing items, although one of the two will take the lead.
The age group with the highest purchasing profile is the 25-45 years group. Buying is least likely at either end of the age spectrum: the under-20s and over-65s. While around one in ten is active in the market in each of the age groups, few are spending more than $100 per year, indicating that, for the most part, purchases are for gifts.
Best Children's Market Business Prospects
As indicated earlier in this report, girls tend to have a larger and more varied wardrobe than their male counterparts. This makes girls' clothing the largest segment within the children's wear market.
However, the following segments also demonstrate strong possibilities across the children's wear market:
Sports/athletic wear for children
Licensed characters apparel (i.e. Barbie, Dora the Explorer, etc.)
Product ties-ins to film, television and other digital media
Infant wear
Ethical (eco-friendly) labels for children
Sportswear remains a particularly important part of the product mix in this sector since spending levels can be high. For example, soccer team jerseys are a favorite in casual wear for many boys. However, they can retail at around $40.00 compared to a basic tee shirt bought at a supermarket for a tenth of the price. Sports branding, using popular brand logos and names, is also important.
United Kingdom: Children's Wear Outlook
A recent report, commissioned by the Brand Licensing Show, found that the children's licensing business in the UK was worth over $4 billion a year. Brands and characters that appeal to children in the UK generally mirror the U.S., with "Barbie" being the leading name for girls. For older boys, influences such as music can also play a role in defining clothing styles, a trend that a lot of suppliers have focused on.
For example, Reebok staged a new event Rbk: Now Playing, which showcased a range of icons including Nelly, Daddy Yankee, Mike Jones, Lupe Fiasco and others in a crossover between the music and sports influences. While more apparent in the U.S. market, this trend is also feeding through to UK clothing. Also, increased media awareness of children has opened the market to more fashion-led influences, as well as merchandising tie-ins with other media, such as music and film.
Clothing for infants is an especially attractive market for fashion and designer brands, fueled by images of celebrities and their children in recent years. Selfridges, a major London department store, has added new designer ranges by Roberto Cavalli, Chloé and Sonia Rykiel to its fall '07 infant collection. Infant wear tends to attract more ethical labels and organic textiles, which has boosted prices in some areas of the market. Major UK retail supermarket chain Tesco introduced an organic range, leading retailer Marks & Spencer introduced Fairtrade clothing.
Key Suppliers
ASDA Stores Ltd. - a subsidiary of U.S. retail giant Wal-Mart Stores Inc. The company operates supermarkets and superstores in the UK. Blue Max - Blue Max, a school wear and garments distributor, acquired Stag Knitwear Company for an undisclosed sum. ### The merger enables the group to offer a full range of clothing for the school market. The companies planned to continue to work independently on distribution.
Boden, an online and catalogue clothing and accessories retailer, launched a babywear collection. The brand previously marketed clothing for children one-year and over, as well as for adults. The new line targets newborns to 18-months, with prices ranging from $24 - $56.
Crew Clothing - a lifestyle fashion retailer, introduced a children's wear range. The collection was made available in larger stores, as well as online and through mail order. The range is called Crew Kids and is positioned as a premium main street range, targeting the 3 to 13 year-old age category. It debuted in 13 John Lewis stores and five Crew Clothing outlets.
Disney announced that it would introduce its first UK line of non-character Disneybranded children's wear. The Disney Jeans line, introduced before Christmas 2007, includes jeans, Tshirts, and sweatshirts with the Disney logo, priced between $16 and $24. Disney has reached an agreement with "George" at ASDA, unveiled an exclusive children's wear collection.
English Roses - the pop star Madonna introduced her English Roses brand to the UK, following its 2004 rollout in the U.S. The range is supplied by Lipstik Clothing of the U.S., and targets the 2 to 16 year-old girls' market.
Fat Face - a 128-store clothing chain, announced that it was to open its first children-only store, which would be located in London. The group also doubled its children's clothing lines in seven stores and launched a new children's wear catalogue. Fat Face plans to extend its presence in John Lewis stores, from 4 to 20, by spring 2008.
House of Fraser - announced that by spring, it was to reduce its children's wear labels by more than half, leaving it with 24, including Ted Baker, Elle, Bench and Hooch. The group's aim was to broaden the offer within each brand. A new children's wear concept has been on trial at the Oxford Street store in London, which included the removal of some mainstream brands to give more space to top performers. GAP- in June 2007, the U.S. casual wear group announced plans to launch its first UK concession in House of Fraser stores, as part of the mixed retailer's revamped children's wear business. The new look was to be tested in five stores. CWF, a children's wear licensing group, is also to open its first concessions at House of Fraser, with brands including Elle, Burberry, DKNY and Timberland.
John Lewis - introduced a school-uniform range made from organic cotton. Intended for children aged 3 to 13 years, the range was initially given a trial run in five stores, with prices ranging from $8 to $34.
Littlewoods - added two new private-label lines to its children's wear collection. The lines were described as the group's first trend-led children's wear collections. The Demo brand for boys and the Freespirit label for girls target the 3 to 16 years age group, with pricing positioned below the premium tier. New designs for the girls' line are to be introduced every 8 weeks, reflecting fast fashion influences. Toddler products, under the sub-brands Demo Junior and Little Spirit, were also introduced for the 3 months to 5 years age category.
Marks and Spencer PLC - is engaged in the retail of clothing, footwear, food, homewares and furniture, and the provision of financial services, including credit cards, loans, life insurance and pensions.
Mothercare PLC - is involved in the retail of clothing, hardware and toys for mothers-to-be, babies and children up to the age of 8 years. In addition to its UK stores, the company operates Mothercare-branded stores overseas, under franchise arrangements in Europe, the Middle East, the Far East, Africa and South Asia. The group had 328 franchised stores in 38 countries.
National Schoolwear Centres - a dedicated school-wear retailer, announced that it planned to open 160 stores over a 5-year period, and the group opened its 60th store selling general and branded school clothing that same month.
Tesco PLC - holds the largest share in the UK's retail food market, with a portfolio of convenience stores, supermarkets and superstores. Tesco entered the clothing sector in 2002, following a deal with the U.S. clothing company The Cherokee Group, to distribute the Cherokee range of casual wear in the UK.
TK Maxx - in summer 2006, TK Maxx launched a new line of children's wear departments - Kids Maxx - in ten of its larger stores, in an attempt to attract back-to-school shoppers. The departments carry branded children's clothing and footwear, together with toys and nursery items. Clothing was for the newborn to 12 years age range.
Children's Market Entry
The most common way to enter the UK market is to establish a relationship with a local distributor or authorized representative or agent. Many of these companies have been in the business for a long time and have gained the knowledge and experience necessary to work with American companies in developing a market for their new products.
Because a wide variety children's wear from established companies are already available in the market, the key competitive factors will be quality, price, design and innovation. Also, advertising can be a critical element in making a new product line known locally. New products should be marketed to appeal to purchaser's interests in a product, i.e. eco-friendly, durability, trendy, etc.