Accessories' Women's Tortoiseshell SS 2014
Here's a first look, an "early indicator" trend, for Spring Summer 2014: the Tortoiseshell Effect. Earthy, versatile and glowing with a glossy shine. Tortoiseshell adds a luxurious touch with its translucent amber sheen, important for the footwear, handbag, jewelry and accessories' market.
Key Items. Jewelry, Bags, & Shoes
Moving away from the popular leopard and snakeskin of seasons past, tortoiseshell offers a new sophisticated take on animal print, infusing Spring/Summer pieces with an irresistibly elegant, dressed-up feel that demonstrates its appealing versatility across a range of accessory styles.
HONEYED HUES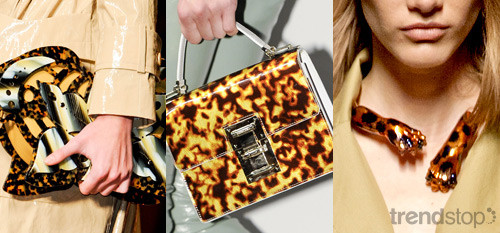 Sweet syrupy tones seep into tortoiseshell accessories, saturating pieces with an opulent honeyed look. Carven interprets the look in a tortoiseshell paneled clutch, complete with gold metallic detail, while Mugler's print bag appears in treacle colored leather. Kenzo's quirky animal paw necklace oozes a tantalizing appeal with hardened honey textures.
images courtesy Trendstop: Carven, Mugler, Kenzo Spring/Summer 2013
GLAZED SHELL
Tough tortoiseshell lends Spring/Summer accessories a unique hardness, offering a natural, organic alternative to the season's futuristic metallic textures. Apologie offer two styles of hardened tortoiseshell shoe, experimenting with cork heel panels and gold spot features. Meanwhile, a necklace at Alexander McQueen and antique earrings from Trocadero combine rigid texture with feminine detail.
images courtesy Trendstop: Apologie, Alexander McQueen Spring/Summer 2013, Trocadero
STATEMENT SHINE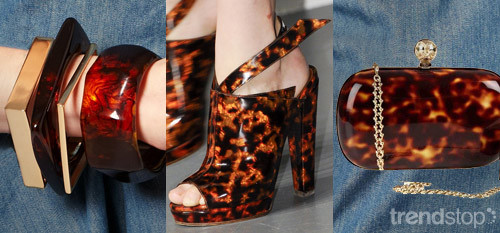 Gleaming with a warm, opulent shine, these are pieces to sit up and take notice of. Glossy bangles at ASOS set off even the simplest of daywear ensembles, while Mugler's polished peep toe wedges demand to be noticed. Reece Hudson experiments with a bondage look, adding a chained cuff to its lustrous clasp clutch.
images courtesy Trendstop: ASOS Fall/Winter 2012-13, Mugler Spring/Summer 2013, Reece Hudson
MORE TREND FORECAST DETAILS
A full range of trend reports are available at Trendstop.com, one of the world's leading trend forecasting agencies for fashion and creative professionals. The agency is renowned for its insightful trend analysis and forecasts. Clients include Forever21, Ralph Lauren, H&M, Hugo Boss, and L'Oreal.