A Profitable Solution for Back-to-School Blues
It's ironic that in a country where over 15% of children ages 6-11 are overweight, the high end market of children's clothing is nearly entirely vacant of girl's size 121/2 and boy's size 2xl.
Poor diets and lack of physical activity (usually a result of overly stressed parents, a significant proportion of high income families) is even leading to cholesterol problems in children, and some as young as 10 are taking statin drugs to stay healthy (Reuters).
The Center for Rural Pennsylvania released a study recently that used state health figures to compare the body-mass index of seventh-graders in urban and rural communities – more than 25,000 students in all.
About 16% of urban students qualified as obese, according to the study, which is in line with the national average for children ages six to 19. In rural school districts, however, 20% of students were considered obese. More alarmingly, researchers found that during the years of the survey, 1999 to 2001, the number of obese students in rural school districts rose about 5%, more than twice the rate of their urban counterparts. The same trends are being reported elsewhere in the United States.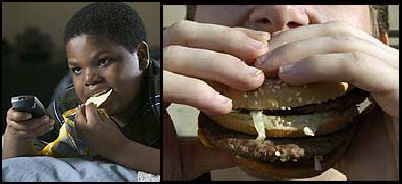 In Michigan, children in rural areas were 3% to 9% more likely to be obese, researchers found. In rural North Carolina, children had a 50% greater chance of being obese (The LA Times).
With husky and plus-size options for children limited to mid-income brands like Old Navy, JC Penny's private label Arizona, and Sears. Department-style stores like these cause problems for the psyche's of obese children because their struggle at this point in life is based on fitting in. When they have to face their classmates in the same store and then make the dreaded trudge to the extended sizes section, the mental anguish inflicted by their own judgments are enough to motivate continuous excuses in order to prevent future shopping trips.
What is needed in the children's retail market are specialty stores directed towards fashion-forward plus and husky designs, much similar to how Lane Bryant filled a void within the women's market. With upscale marketing, fashionable yet body-conscious products, and a plethora of mainstream, trendy products that aren't size-specific.
Ideas for Success:
Utilize flattering designs such as flares and boot cut pants to balance proportions.

Encourage layering with mannequins and have associates available to provide styling advice to children and parents.

Overweight children tend to look older than their peers, so be sensitive to make sure all clothing and accessories are age appropriate to prevent from aging them further.

For advertising, use standard-size models. Unlike older markets, children are heavily focused in fitting in with normal peers (the models).

Offer a large range of branded one-size-fits-all items such as shoes, accessories, and purses that are trendy and fresh.

Most overweight children gravitate toward jeans and tees, so add spunky details to stand out from the competition.