90's Minimalism, Women's Apparel & Accessories SS 2015.
Spring/Summer 2015 Seasonal Direction Report sees womenswear fashions stripped back to the bare essentials for a clean, sophisticated finish, say the trend analysts at Trendstop. Sharp 90s Minimalism is updated for 21st century consumers, while Modern Puritan offers a more provincial take on pristine styling. The report features two key commericial themes backed up by directionals and early mainstream retail examples.
Women's Key Trend Theme
Stripped-Back Sophistication.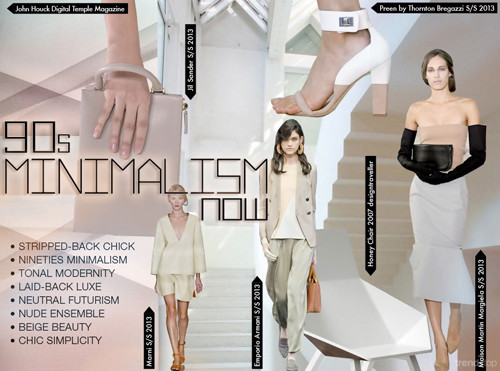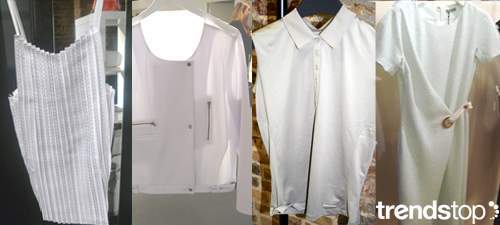 *image courtesy Trendstop: Alexander Wang, ASOS, Porsche Design Sport, Iceberg, all Spring/Summer 2014. *
'90's MINIMALISM NOW Relaxed, refined and contemporary, the neutralism of the 90s makes a comeback this season, on show in minimal shapes that demonstrate a modern twist. With a pure white colorway prevailing throughout, logoed patterns dominate vests at Alexander Wang, as ASOS pares back a biker and Porsche Design remove the sleeves from a polo shirt. Iceberg add interest to a simple dress with an unusual eyelet fastening.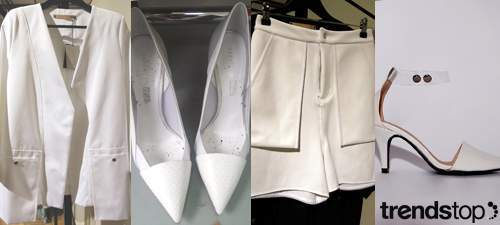 image courtesy Trendstop: Stefanie Biggel, Prabal Gurung, Stefanie Biggel, Pixie Market, all Spring/Summer 2014.
Adhering to the mood of simple chic characteristic of the trend, both apparel and accessories take on an effortless versatility for both day and evening occasions. Stefanie Biggel strips down utility jackets and shorts to their purest form, while pointed footwear appears with tonal textured toe panels at Prabal Gurung and transparent ankle straps at Pixie Market.
90's Minimal Puritan.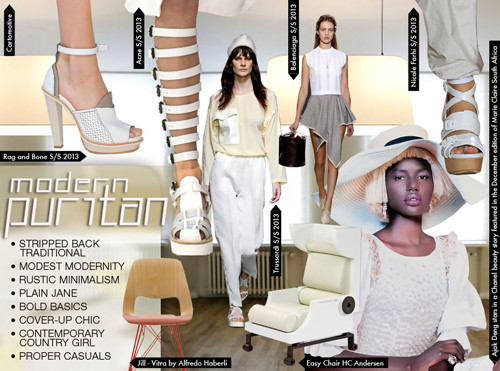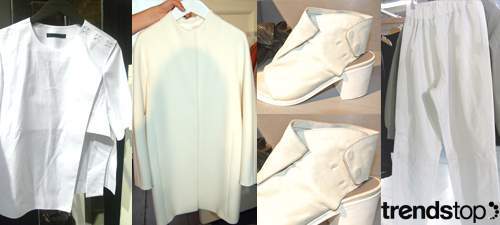 image courtesy Trendstop: Alexander Wang, Hobbs, LD Tuttle, Hide, all Spring/Summer 2014.
MODERN PURITAN Shapely purism is transformed with a rustic treatment, creating a new range of must-have casual-contemporary designs that fuse chic neutrals with a homespun appeal. Pure white hues inform crafty detailed tees at Alexander Wang and loose-fit joggers at Hide. Elsewhere, Hobbs lightweight wool coat and LD Tuttles peep-toe suede booties come in a light shade of cream.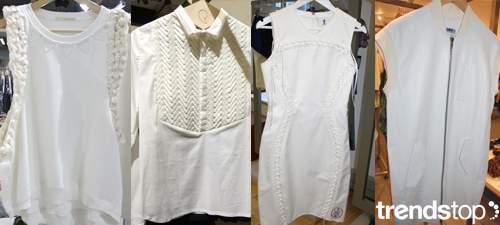 image courtesy Trendstop: Daydream Nation, Raphaelle HLimi, Adidas Originals x Opening Ceremony, MM6 Maison Martin Margiela, all Spring/Summer 2014.
Other interpretations dress up minimal pieces with a provincially-inspired texture play. We see chunky weave trim and tonal statement stitching inform tops and dresses at Daydream Nation and Adidas Originals x Opening Ceremony, as tactile paneling informs Raphaelle HLimi shirting. MM6 opts for a pristine sportswear look with ribbed detailing on a sleeveless jersey jacket.
**Purchase the Full Report
Source: Trendstop The Commercial Theme Book Spring/Summer 2015 purchase the full package at Trendstop.com. Download the free Trendstop TrendTracker smartphone app or sign up to our new free TrendStream feature for more daily trends.
Trendstop.com is one of the world's leading trend forecasting agencies for fashion and creative professionals, renowned for its insightful trend analysis and forecasts. Clients include Forever21, Ralph Lauren, H&M, Hugo Boss, and L'Oreal.