70's Chic, Women's Key Denim Trend F/W 2016-17
Denim undergoes a transformation for Fall/Winter 2016-17, as shapes are updated with a fresh range of fashion-forward themes. This week, WeConnectFashion readers are presented with 70's Chic Denim, a womenswear trend that breathes new life into retro denim styles to create 70's-inspired pieces with a clean, contemporary appeal.
70's Chic Denim

Essential new season styles offer directional additions for the winter wardrobe, influenced by the worlds of sport, workwear, DIY culture and beyond. Pinpointed by Trendstop's denim trend experts, discover how these F/W 2016-17 theme trends bring a wealth of innovative developments to Women's denim collections, revamping everything from color, wash and surface to silhouette and detailing.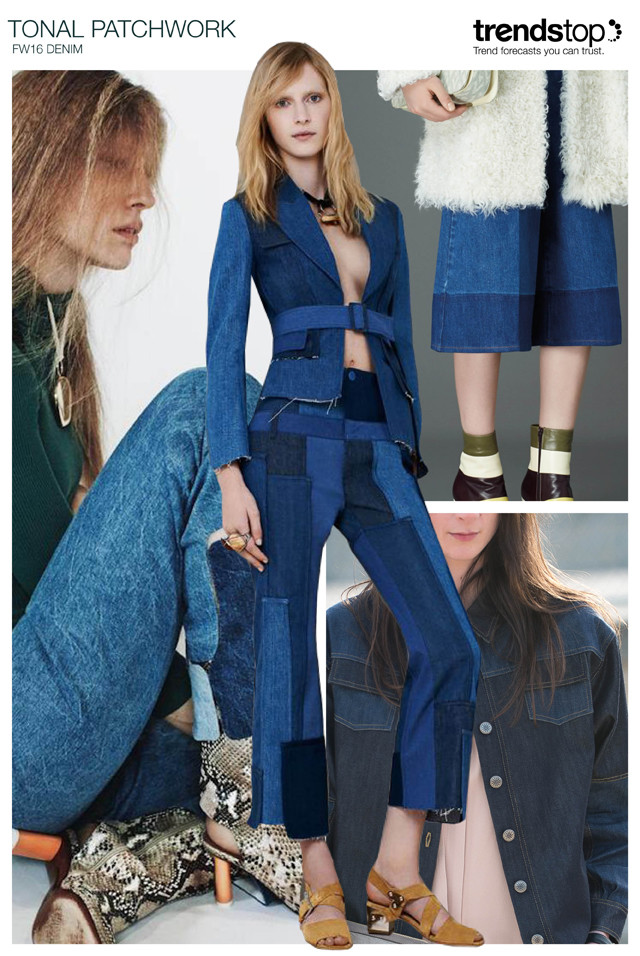 image courtesy Trendstop: Alexander McQueen Resort 2014, Txema Yeste, Valentino Pre-Fall 2015, Paris Street Style 2015.
Tonal Patchwork
Women's denim introduces a 70's mood with striking patchwork prints, executed in tonal denim blue shades. Clean lines enhance simple cuts, as seen in the form of cropped culottes and flared jeans. Meanwhile, more casual DIY looks can be created with pieced-together materials and raw edgings. Double-denim coordinations make a contemporary statement when formal jackets are styled with jeans.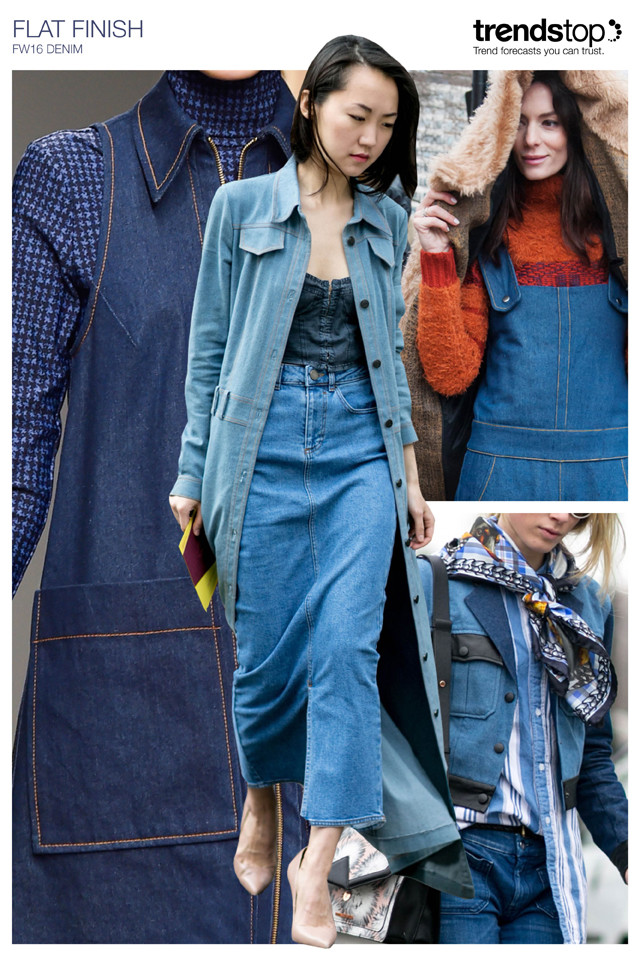 Flat Finish
In the Flat Finish trend, Fall/Winter denim emerges with anti-treatment finishes and clean-cut designs. Purist shapes lend a chic appeal, from A-line mini dresses to longline coats. Wide-leg dungarees can be layered over a tactile roll-neck knit for a cozy winter 70's look, as high-waist silhouettes and shirt collar details emphasize the modern-retro feel.
image courtesy Trendstop: Milan Street Style 2015, Karen Walker Fall/Winter 2015-16, London Street Style 2015, Paris Street Style 2015.

More Report Details

A full range of trend reports are available at Trendstop.com, one of the world's leading trend forecasting agencies for fashion and creative professionals. The agency is renowned for its insightful trend analysis and forecasts. Clients include Forever21, Ralph Lauren, H&M, Hugo Boss, and L'Oreal.